Taking part in the sustainable global experience in Brussels with Pagoda Projects
24 July 2023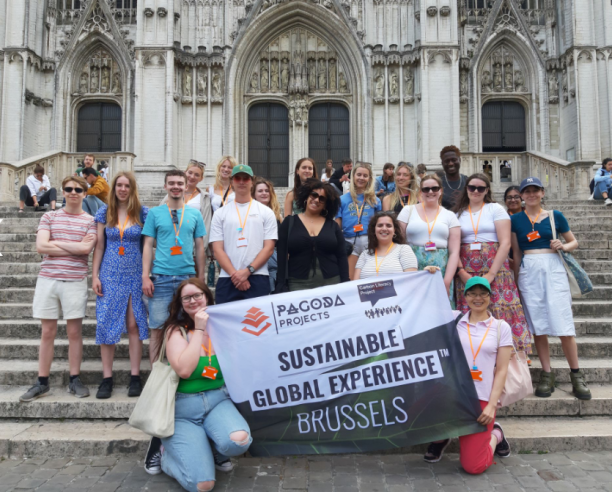 During the summer break, I have been lucky enough to take part in one of the universities many international summer programmes. During the last 2 weeks of June, I was able to participate in Pagoda Projects' Sustainable Global Experience in Brussels. This involved a week of remote carbon literacy training, then a 5-day trip to Brussels to visit sustainable businesses and the EU parliament to discover what is being done in the way of improving our efforts to be more sustainable. This blog aims to tell you more about my experience and how other Cardiff University students can do it too.
Funding
In a previous blog, I've already discussed the many funding opportunities available for Cardiff University students looking to go abroad over the summer. This particular programme was funded by the universities International Summer Programme (ISP) bursary. The majority of the programme cost was funded by this bursary, with students from disadvantaged backgrounds being able to receive full funding. The process isn't too complicated or time-consuming and the Global Opportunities team are always accessible via email to give any guidance needed.
Applying
You can find more information on this programme and other programmes available through global opportunities, once enrolled at the university. There is a priority of places given to final-year students to give them the opportunity before they graduate in July.
What we got up to
During the first week of the Pagoda Projects programme, we took part in 12 hours of online carbon literacy training remotely. This was an excellent introduction from the comfort of our own homes, as well as familiarising us with all of the relevant information we would require for the field trip. For the second week, there was a group coach transfer to London St Pancras where we took the Eurostar to Brussels. Our time in Brussels was kicked off with getting to know the city through a scavenger hunt, then we were lucky enough to meet sustainable businesses such as Mundo-Madou, Climate Alliance, Brussels Donut, Bigh Aquaponics farm and visit the EU Parliamentarium and EU Parliament. To conclude our visit, we gave a group presentation on our chosen businesses could improve their sustainability efforts.
The best bits
The highlights of taking part in this programme were definitely getting to explore Brussels, a city that I don't think I would have found myself in without the excuse of being a part of this programme. Getting to discover the history and culture of a city which is home to so many European institutions was a unique experience which I will always remember. In hand with that, the international relations geek within me loved visiting the EU parliament and parliamentarian and experiencing more of the development and role of the EU in modern Europe. Finally, the best part of the programme was the new people who I met along the way. Going without knowing anybody, I soon found that most of the other students on the trip were in a similar circumstance. Getting to know other Cardiff University students who I would not have otherwise met, and having new friends to explore the city with was definitely a highlight of the trip.
Why you should do it too
I would strongly recommend this programme to other Cardiff University students who want to spend time abroad in the summer, particularly if you can't go away for a longer time or are on a tight budget, for the following reasons.
There is a strong emphasis on networking – you are encouraged to add everyone you meet on LinkedIn and connect with similar interest
Building new skills and going out of your comfort zone by going to a new place with people you've never met before and giving a presentation.
Becoming more carbon conscious and learning what you can do as an individual to improve.
Meeting new people.
The opportunity to travel somewhere new in the safe space of an affordable, organised trip. This is a great opportunity to experience hostel life for the first time and open you up to future travel opportunities.