Personalising a student flat
11 September 2023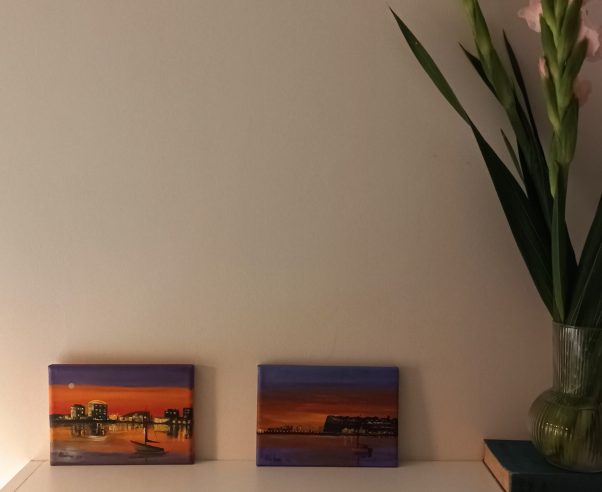 Moving or returning to uni can be an exciting time, filled with new things. This includes a new student flat, which comes as pretty standard and impersonal, not helping with the potential isolation and loneliness of being at uni. It can be really helpful to personalise your student flat to make the space you are living in a comforting, safe space.
Think about your aesthetic 
The first step to personalising a student flat is to think about your aesthetic. This means considering what you're ideal space would look like and introducing items to your space that bring it closer to your vision. If you want your room to feel cosy, buy some autumnal candles. If you want a bright, open space, add some mirrors around the room and open a window. Using your imagination to bring your new student flat closer to your aesthetic, you can start crafting your safe space.
Painting your own art
My housemates and I have been decorating our spaces with our own art. Although it may not meet the standards of art critics around the world, you can have a fun art evening and decorate your space using your own unique pieces.
Hit up charity furniture stores
By checking out charity furniture stores such as the British Heart Foundation on Crwys Road, you can support a worthy charity while finding affordable furniture. Adding a few small pieces can help make your flat your own. In my flat, we brought a coffee table to keep in out communal space. This marks space where we can all hang out, eat food and play board games.
Invest in things as a flat (but plan what you will do with it when you move out) 
In my new flat, we've chosen to invest together into shared furniture for the flat. For instance, we've purchased a coffee table for our communal space, giving us room to play chess, eat dinner, or a central space for us to sit around and chat. We've also invested in a project to enjoy watching movies and TV shows together, and a carpet to hold the warmth in the winter and tie the space together. Although these are great investments that really help personalise our home and make it more comfortable, it's important to consider as a group what you will do with them when you all move out to prevent arguments down the road.
Think about lighting 
Finally, lighting is an important part of personalising your student flat. You could try a galaxy projector, LEDs or sunset lamp, which have all been really popular recently. Though, you don't need a light that's trending on tiktok to make it a more homely space. I personally prefer a warm lamp or battery powered candles, rather than the overhead lamp.
Thinking about what little details makes a place feel more like home can make a huge difference in personalising a student flat to make you're time there more comfortable and relaxed. This blog gave you the first steps to personalising your new student home, most importantly, use command strips (not blu tak as it can damage the wall paint) to stick posters, art etc to the walls to fill them with character.