Parks of Cardiff to explore that aren't Bute or Roath Park
2 March 2022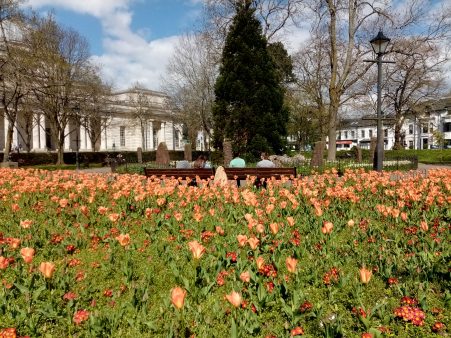 Bute Park and Roath Park are typical Cardiff student haunts, simply because they are both conveniently located close by to the Cathays Park campus and student residences. However, Cardiff has so many more parks to offer.
Whether you're looking for a new picnic spot, or want to bask in nature and read a book, below are just some of my top picks that I've loved visiting, and are walkable from Cathays. Some are further than others so be prepared to walk a bit more (though while there, you can explore the surrounding neighbourhoods to get more of a feel of Cardiff that isn't student-centric).
Gorsedd Gardens
If you go to Cardiff University, you know of Gorsedd Gardens. Just in front of the National Museum, this small green space is perfect for a short sit to relax, with plenty of benches. It's home to student favourite Brodie's Coffee, whose little spot you can't miss. However, Gorsedd Gardens is at its most spectacular closer to the Spring time when the flowers start blooming, where your eyes will be treated to a colourful spread across the area.
Address: Gorsedd Gardens Rd, Cardiff CF10 3NP
Victoria Park
On the other side of the River Taff is Victoria Park, comfortably set within the Canton area. It's a spacious neighbourhood park with plenty of areas to sit, whether on a bench or your own picnic mat. While it can get quite crowded on the weekends when parents bring their kids here, the park is big enough that you can still get your own little spot of privacy, away from the crowds. While there are refreshments available within the park, just opposite along Cowbridge Road East is a row of eateries serving more substantial fare.
Address: Victoria Park Rd E, Cardiff CF5 1EH
Thompson's Park
For a quieter getaway, take a detour to Thompson's Park, which is not far off from Victoria Park. This elevated, lush green space is situated deep within a residential area, unlike Victoria Park which faces a main road, so traffic noise is next to none here. Grab a drink and/or snack from Lufkin, and sit on the benches surrounding the fountain and statue that greets visitors immediately. Walking around Thompson's Park will make you feel like you're walking in the countryside – without actually going too far out.
Address: 31 Syr David's Ave, Cardiff CF5 1GH
Pontcanna/Llandaff Fields
While these are two different green spaces, I have chosen to combine them into one simply because they are actually connected, and are adjacent to each other. While not traditionally a park the way Bute Park is, Pontcanna and Llandaff Fields offer extensive green spaces if you're looking for a more open area. People watching is also a possibility here, as locals descend upon here to partake in a host of leisure activities. There's also a cycling path parallel to the banks of the River Taff if that's more up your alley – talk about cycling with a view!
Addresses –
Pontcanna Fields: 42 Fields Park Rd, Pontcanna, Cardiff CF11 9HY
Llandaff Fields: Pontcanna, Cardiff CF11 9HZ
Bonus: Alexandra Park in Penarth
While Penarth isn't an area of Cardiff, Alexandra Park is too beautiful to be left off this list. No time in Cardiff is complete without visiting Penarth, and Alexandra Park is well worth the journey (you can take a short train ride, or walk from Cardiff Bay). Like many other parts of Penarth, Alexandra Park is situated on a hilly part of the area, meaning walking through here entails traversing between levels. The natural landscape is diverse, and at the right time, you can see many different kinds of flowers in bloom all around.
Address: Google Maps marker