Transport In Cardiff
4 March 2022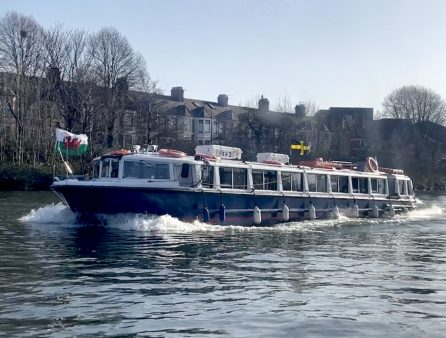 Coming to a new place can be daunting and overwhelming, however it is a novel and thrilling experience. We often don't know what to expect yet we have expectations. There are a lot of things I wish I knew when I came to Cardiff as an international student. And one of them was definitely how I was going to move around.
Listed below are ways of traveling within Cardiff, to other cities in the UK and Europe
Cardiff is a very compact and pedestrian-friendly city. With pedestrian paths everywhere along the highways, streets and through parks; it's so easy to get everywhere without spending any money or feeling fatigued. Most of the students who live in university residences tend to choose ones that are closer to their campuses and just walk to their classes.
Walking is also a wonderful way of relaxing, taking a break, connecting with nature, and getting some exercise. I recommend walking along the Taff trail which is 60-mile path that runs along Cardiff to Brecon. You can find out more  about where the river passes.
There are several busses in Cardiff that can get you around almost everywhere locally. Cardiff bus is one of the biggest bus companies that allows travel all the way to Penarth and Barry. Stagecoach is also a bus service that travels locally and to surrounding areas such as Caerphilly, Tongwynlais and the Valleys. Adventure travel is one service I haven't heard of, but it runs services within Cardiff and surrounding areas. Personally, I use Cardiff bus most of the times as they have several busses almost every 10 minutes however, I have found that stagecoach is cheaper.
If you are a student between the ages 16 – 21, make sure you apply for a travel pass that gives you almost 30% off bus travel in Wales.
Travelling by train is one of the common ways of getting around not only in Cardiff but in the whole of UK. There are around 20 train stations in Cardiff with Cardiff Queen Street and Cardiff Central being the mains hubs. Trains from Cardiff Central station link to the Valleys and Vale of Glamorgan.
Trains may be a bit pricier than busses depending on where you're going and the date you want to travel. Rail cards are discount cards that allow you to save up to 1/3rd off the price of train tickets and is a great way to save money. There are different types of rail cards and they all cost different amounts. If you travel a lot, getting a rail card may be worthwhile. Check the trainline website for more information and details.
(By the way, opening a student account with Santander bank gets you a free four-year 16-25 railcard)
Along with pedestrian paths, Cardiff has a lot of cycle paths which make it easy to bike everywhere across the city. The plus point about biking is you don't even have to own a bike! With OVO Bikes (powered by nextbike UK) there are free bikes all around the city that can be hired and all you have to do is create an account on your phone. The website has all the information you need to know.
Feeling a bit lost, tired or in a hurry? Worry not! There are several private taxi companies operating in Cardiff; the most popular one for students being Dragon taxis. The prices are reasonable, and they offer many services. Our worldwide known Uber also operates within Cardiff and can easily be accessed just by downloading the app.
Dragon taxis has a taxi scheme in partnership with Cardiff university students' union which enables students in any vulnerable position to be picked up at any time and dropped home safely.
There are four coaches that travel within Cardiff and other cities in the UK and some in Europe. The coaches are cheaper than trains for certain travel, however, may take longer due to having several stops therefore some people may find them inconvenient and exhausting.
In my opinion, if you are trying to save money yet would like to travel and explore around, coaches may be your best bet. I used the national express when traveling from London to Cardiff and it was a good experience for me. Other coach services include Flixbus, Megabus and Edwards Coaches.
I had never heard about this until when I decided to write this blog! Cardiff has two water taxi services that run between the city centre and Cardiff Bay. One of them is Aqua bus and the other is Cardiff boat. The two services are weather and river conditions dependant. I rode the aqua bus and it was a very enjoyable experience.
There is also a boat service offered by the two companies that involves a cruise around the bay to the barrage where you can tour around.