Making sense of the university application process
28 March 2023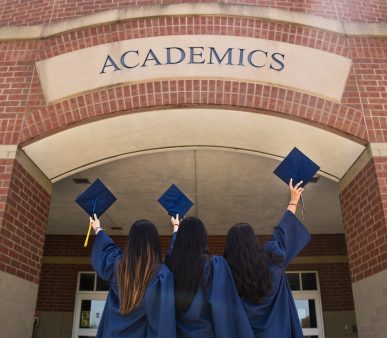 Applying to university was one of the biggest stresses I had as a teenager. It sounded so unrealistic, abstract and difficult. Who would accept me? Would I get the right grades? How hard was the application process? Where do you go to even apply? I had no idea and this was something that I would often worry about as it seemed like such a big, daunting thing. It doesn't need to be that way. In fact, when completing my application, I realised that once you broke it down into steps and made decisive choices, it wasn't that hard at all. I had ambitions, but the most important thing was that I would be fine and make it work, no matter where I studied. Considering that, this blog aims to provide you with a list to familiarise yourself with the key parts of applying to university.
Choose what you want to study
The most important step which will make or break your time at university is choosing what you want to study. This will be what you spend most of your time doing and will most likely greatly influence what you go on to next. However, there is no need to rush or stress about this decision. Choosing the wrong subject under pressure is arguably worse than leaving it a year and taking a gap year to work or travel. Consequentially, my advice would be to take your time, do your research, and try to immerse yourself in the sectors you are interested in.
Choose your university
Secondly, although I was advised by my college career advisor that all universities are very similar and that this was an easy choice as there are no wrong answers, I can confirm that it's not. This is a city in which you are going to live in for three years or more, therefore you should consider things like accessibility to your home town, cost of living and if you like the culture. Equally importantly, the entry requirements of the course are important for considering how likely this option is. Can you get a contextual offer? If it's important to you, does this course offer a year abroad? I would suggest including two ambitious options (the sky is the limit), two realistic options and one attainable option. 
Begin your application
Once you've committed to your course and know your top university options, you can begin working towards your UCAS application. Here I would just say to be thorough and check all of the details required before submitting.
Write your personal statement 
Writing an effective personal statement can be a challenge. It is usually our first attempt at writing an important piece about ourselves and what we are interested in. I truly believe that a personal statement is your time to shine above your grades. It is your opportunity to demonstrate your interests and passions and to communicate that to the universities that you are interested in. A tip that I have is to let your eagerness be felt through the text, include a small background about why you are interested in your subject and comprehensive ideas from what you've read about your subject. 
Wait until you get your offers
Having completed your personal statement and submitted your application, this is your time to relax and let your words and predicted grades speak for you. Some universities may leave you only waiting for a few days whereas others may leave you for 4 or 5 months (I recall a very painful 4-and-a-half month wait for one of my offers) but just remember that this is normal.
Make a choice 
When all of your offers have rolled in, you have to decide on your first and reserve choice university. This can be a challenge but it's good to consider what universities you are most attracted to, what they can offer you and what is most realistic.
Should all go well on results day, you can then look forwards and prepare for starting your new course and moving to a new city. Ultimately, you are capable of making the most of university, no matter where you apply, so long as you are happy with what you are studying and the people around you.