Castles to visit in Cardiff
3 April 2023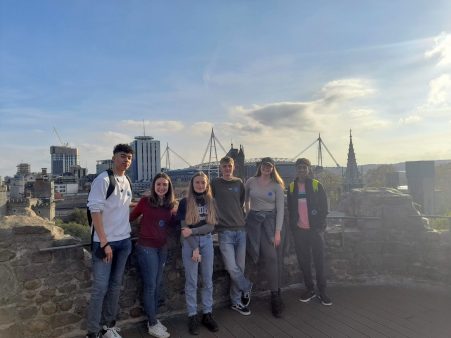 As the capital city of the country with more castles per square mile than any other county in Europe, there are unparalleled adventures for history lovers and adventurers alike. Perfect for impressing visiting family members or for a day out with your housemates, these castles in Cardiff should be at the top of your list. 
Cardiff Castle 
Located in the centre of Cardiff, Cardiff Castle is widely known as Cardiff's crown jewel. The medieval motte and bailey castle provide a great insight into the city's rich history of invasions over 2000 years. You can learn about the development of the castle and the 1866 addition of the gothic towers as the castle is passed through many noble families. From hosting Blondie, Rag 'n' Bone Man and Tom Jones concerts to being the backdrop for ice skating at Winter Wonderland, this Castle is at the heart of Cardiff city life. Times and prices for visitors can be seen here, on my first visit I brought a 'Castle Key' which allows you free entry to the world-class heritage site for 3 years – this is for people who live in Cardiff only. 
St Fagans Museum of History 
Being a Grade 1 listed building, St Fagans castle is regarded as 'one of the finest Elizabethan manor houses in Wales'. St Fagans Museum of History is less than an hour away from Cardiff University, making it an easy destination for a day trip. Just take the 61 bus from Cardiff Bridge to Pentrebane, get off at Shamrock Road and the castle is only a 20-minute stroll away. 
Castell Coch
Thought to be a 'plaything of the rich and powerful for over 700 years', Castell Coch has a fascinating history of being originally built to protect the city of Cardiff to being invested in by the wealthy for rebuilds to turn it into an excellent example of Gothic Revival architecture it is today. This castle is easily accessed from Cardiff University, only a 35-minute train ride from Cathays to Taff wells, then a relaxing 30-minute walk through Taff Wells to make it to the castle.
Caerphilly Castle
Described as the 'mightiest medieval castle in Wales, Caerphilly Castle is the result of an intriguing story of a worrisome Prince of Wales seeking protection requiring a monumental castle to be built. Equally easy to access from Cardiff University, this castle, only second in size to Windsor, is a 30-minute train ride from Cardiff Queen Street. 
Fonmon Castle 
Located right next to Cardiff airport, this castle is easily accessible by getting the train to Rhoose, then the 304 bus. Despite only being an hour away from Cardiff University, Fronmon Castle and its gardens takes you into a world away from the city. Perfect for children, there are many things to do including exploring Jurassic Wales, venturing through the castle and gardeners and even a Mad Hatter's Tea Party.
As I've previously explored, it's so valuable to immerse yourself in the local history and learn about where we live while studying in Wales, visiting the castles on this list is a great place to start your historic adventures.