Highlighting Day Trips From Cardiff – International Students POV – Bristol
18 April 2023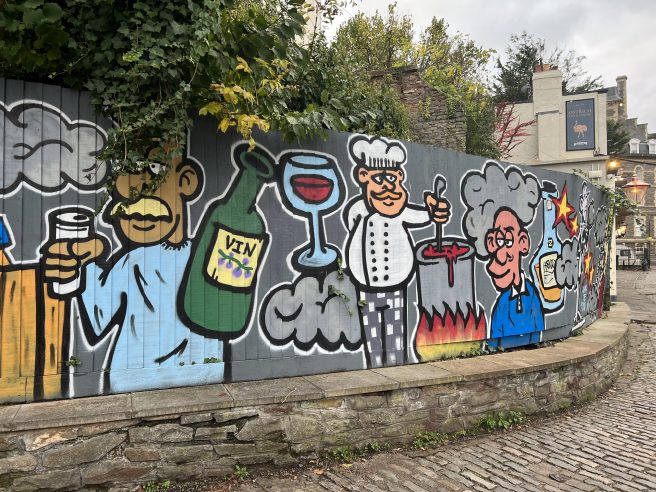 Bristol
Cardiff, being close to the border, allows easy access to visit places not only in Wales but in England as well. One popular day trip from Cardiff is visiting the city of Bristol. Similar in many ways to Cardiff, Bristol is also a student town that has so much to offer. In the fall, I took a trip to Bristol with one of my good friends, no plan set, just time to wander round. Here is what we experienced:
St Mary Redcliffe Church
As soon as we exited the train station, we just started walking round, trying to make our way towards the city centre. Whilst getting a bit lost, we stumbled upon the St Mary Redcliffe Church. Neither of us knew if we were allowed to go in but we were so in awe of this architecture that we couldn't not try to view the inside. Sure enough, the doors were open, welcoming visitors of all sorts. As we revelled as the infrastructure, we toured the building, learning about the 800 year long history of this site. The church is a gorgeous place to visit whether you're a believer or just an admirer of gothic architecture, I highly recommend visiting. The stain glass windows, the high arched ceilings, and the metal entryways created such lovely space to view and marvel at.
Quaker Burial Ground
Across from the Redcliffe Church, we came across the Quaker Burial Ground (aka Hermits Cave). This site lay to rest the bodies of Bristol's Quaker community before the 1920s. The small, gated cave holds history as far back as the 1300s. Though this is a small site to see in Bristol, it adds another layer of history that makes this city so fascinating.
Rivers Avon and Frome
Two rivers cut through Bristol, adding a charm to city. In my past blogs I have mentioned I am a sucker for being by the water. These rivers added such character and peacefulness to the area. What I thought was so interesting was how many houseboat conversions were docked alongside the river. As we walked past gorgeous colourful houses and restaurants, we also saw house boats, simply existing. I don't know why but that was so interesting to me to see how amidst a bigger city, you have such different lifestyles being lived.
Brunel's SS Great Britain
Whilst continuing the topic of history, right off the River Frome rests Brunel's SS Great Britain. This now museum ship once was the largest passenger ship in the world from 1845-1854. The SS Great Britain has now been adapted into a walkable museum so visitors can experience the history of life back then. Before you enter the museum, you walk through the Great Western Dockyard. Walls lined with copied newspapers from the time allow you to see how impactful the SS Great Britain was back in its prime. Though we were a little late for the tours, I still recommend giving the museum a visit. Experience the history of this amazing country.
Bristol Old City
As it started to get dark, we made our way into Bristol's Old City for dinner. With Bristol University nearby, nightlife was hopping. We settled at Honest Burger for dinner, a staple here in Cardiff as well. At the time, Bristol had all its Christmas decorations up. However, even without these decorations, Bristol is lined with art everywhere. From the street pavement to street signs to wall murals, Bristol is lively in the art scene. As we'd walk across the street, painted flowers created a path. We'd look up and see "Can't help falling in love," beaming in lights across the way. The famous mural "girl with a pierced eardrum" also made an appearance on our day trip. Everywhere you'd look, art was present. It gave the city such character.
Bristol Shopping Quarter
Lastly, we made our way through Bristol's shopping centre to see what was offered here. With Christmas markets, Christmas trees, and lights all over, Bristol had an extra magic to it for the time. The shopping quarter had everything you needed from food to retail and essentials. I would highly recommend coming during the holiday season as the city has an extra flare to it. But even without the holiday spirit, the streets were filled  for the night ahead. Skaters were performing tricks in the square, students were walking back from a day of studies, the night was beginning.
But as the night began, we decided to make our way back home to Cardiff. After a long day in Bristol, we had seen such amazing things that we hadn't expected. Go to Bristol, explore, find the hidden gems of the city.
Have fun exploring,
Lilly <3