Sparking connectivity
21 February 2022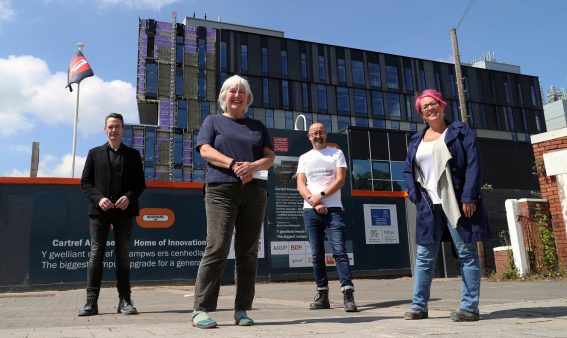 Cardiff's new sbarc|spark hub will bring together researchers to connect across social science research disciplines to create new ways of working. Professor Sally Power, WISERD, recently published a paper examining calls for an 'evidence ecosystem' to address the disconnect between university-led education research, and education policy and practice. Here, she shares thoughts on what the Social Science Research Park (SPARK) could contribute to the debate when it opens next month.
"Connectivity is the key to progress. The challenges of Covid revealed the need to make connections across all areas of social policy – something which SPARK, with its eleven expert social science research centres, is well-placed to facilitate.
In my own field, for example, we know that experiences of learning during lockdown were linked to the adequacy of housing and accommodation. We know that young people suffered high levels of anxiety during the pandemic – and one of the main causes of worry was whether their parents had enough money to get by – so it is important to connect education with employment and welfare opportunities.
Other recent events, such as debates around climate change, are 'live' issues in schools and colleges, so it is important that we can explore the connections between education, politics, civil society, and environmental sustainability.
It might be argued that Wales provides the perfect environment for developing an inclusive evidence ecosystem, especially for education, because of the government's commitment to the use of evidence in informing policy, a consensus among political parties about the direction of education policy, a collaborative approach to working with researchers and the education profession, and its small size.
Since devolution, the Welsh Government has pledged to develop its distinctive reform agenda based on research evidence. Moreover, there seems to be a remarkable degree of political consensus about the overall direction of policy. Relationships between researchers, policymakers and practitioners are based on collaboration rather than conflict and mistrust.
However, there are significant challenges to building an evidence ecosystem in Wales that stem from both internal constraints and external pressures. Having a small population, distributed over a large geographic area, creates resource difficulties. And Wales receives proportionately less funding than other UK nations, leaving less money for research and evaluation. The number of education researchers in Wales has declined in recent decades. It is also the case that individuals matter much more in small states than in larger ones: the impact of just a few individuals – for good or bad – can have a much bigger system-wide effect. Retaining effective personnel in key positions is therefore strategically important but often difficult. Outward migration is problematic.
WISERD has been attempting to address these challenges through a range of initiatives. For example, the WISERD Education Multi-Cohort study (WMCS) provides a resource for any researcher interested in the experiences of young people in Wales. More recently, the WISERD Education Data Lab has been established to support Wales' education system. These initiatives can inform Wales' new National Strategy for Education Research and Enquiry which will hopefully bear fruit in the future.
Above and beyond these initiatives, the Social Science Research Park will provide us with close proximity to expert policymakers – from the 11 research centres and co-located partners – who can help us understand the bigger picture. Our collaborators will include CASCADE (the Children's Social Care Research and Development Centre); DECIPHer (the Centre for Development, Evaluation, Complexity and Implementation in Public Health Improvement) and policy specialists including the Wales Centre for Public Policy and the Centre for Innovation Policy Research.  Through a collaborative approach in sbarc|spark, we will help to build an 'evidence-based ecosystem' for Wales.
Professor Sally Power, WISERD (Wales Institute of Social and Economic Research and Data),