Cardiff Innovation Campus Update
10 September 2019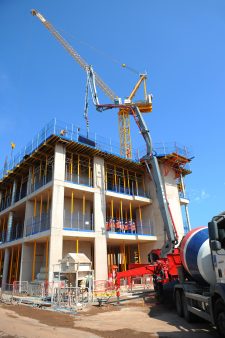 Wednesday 24 July marked the highest July temperature recorded in the UK: 38.1°C in SE England.
Teams from Cardiff Catalysis Institute (CCI) and the Institute for Compound Semiconductors (ICS) endured the heat on this day as some headed out onto the newly-poured third floor concrete slab of the future Translational Research Facility. The temperature? Over 35°C.
Both groups of scientists were taken on a site tour by Lee Lovering, site project manager with Bouygues UK, and Nick Toulson, Bouygues UK's CSR adviser.
Dr Andrew Logsdail, University Research Fellow, School of Chemistry, said: "We were well guided and informed throughout the tour. The TRF building and site is far more expansive than I realised from the plans, and really will have the capacity to house a wide range of catalytic chemists and materials physicists working on the challenges of tomorrow."
Future SPARK leaders (Innovation Central) have also visited the site over the past two months.
Clive Meaton, ICS Operations Director, said: 'It was fantastic to see ICS's new building going up. Even having become very familiar with the plans of the new building it was still extraordinary to see the scale of the facility. The construction progress is very rapid and we are now getting excited to eventually moving in and starting operations.'
Stephen Sutton, ICS Business Development Manager,, added: "Great to see the plans becoming reality. Interesting to hear about the construction techniques employed to meet the strict environmental conditions required to house some very sensitive equipment. Was also interesting to hear how health and safety is effectively designed-in to the project e.g. fixings for cabling channels built-in to reduce the need for chasing and dust… the Health and Safety culture on-site appeared second to none."
"It was excellent to visit the site," said Stuart Thomas, ICS Process Engineer. "It was really good to see the scale of the project on the ground, rather than whizzing past it in around 5 seconds on the train! I was particularly impressed with the strong emphasis on safety. The guys were very good at explaining things to us in layman's terms, the whole process of the project from start to finish. I think it would be an excellent idea to welcome them back to see the cleanroom facility when its finished, and get them to gown up in the cleanroom gear, and show them what we do, so they can see the fruits of their labour".
Fellow ICS Process Engineer Saleem Shabbir agreed. "It was great to visit the site and see the scale of the project. Getting an idea of the size of the cleanroom has got me excited for the future."
Topping out ceremonies will follow soon, and the Oculus staircase is being installed in Innovation Central. Here are a few shots from the ICS/CCI visits to give you a sense of size and scale of the TRF and the site, plus great FT great coverage today for the CSConnected cluster http://www.csfusion.org/