"Because 99% of the time the child is telling fibs. And you cannot know."
12 November 2019
It's that time again. The time when some semi-edutwitter-celebrity says something outrageous in an effort to maintain relevance and influence, irrespective of the potential consequences. In this day and age of social media, it seems the old adage 'any publicity is good publicity' still stands strong. While I'm reticent to draw attention to this type of scandal, the potential, deleterious effects of this kind of social media irresponsibility cannot be ignored.
A deliberate choice to be provocative can be the only reasonable explanation for recent comments made by Katherine Birbalsingh, the Headteacher of Michaela Community School, recently on Twitter. In a thread on responding to pupils' claims about their interactions with teachers, Birbalsingh gave an incredible – and in my opinion – reckless response. I was so confounded by the irresponsibility of her tweet that I took a screenshot (below).
Birbalsingh is continuing to ride the wave of this Twitter controversy, perpetuating scandal and doubling-down on her message as a strategy for reinforcing and positioning her brand. Given the implications of her advice for the safeguarding of children, and in consideration of the United Nations Convention on the Rights of the Child – especially Articles 3, 12, 18, 19, 28 (with an emphasis on 'Discipline in schools must respect the child's dignity') and 29, I'm astounded by her decision to stand by those words rather than simply say "I made a mistake."
A few years ago, I asked over 400 Year 8 pupils in Wales a series of questions about their experience at school. One of the questions was "How much do you agree or disagree with the following statement? Pupils' views are listened to and taken seriously by school staff." Later in that year, I asked over 200 teachers (from the same school as the pupils) the same question. Here are their responses: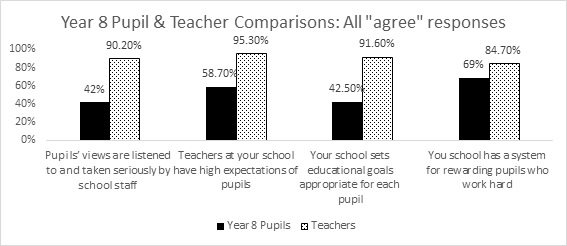 As you can see, there is a significant difference between pupils' and teachers' perspectives. Less than half of the pupils agreed with the statement that their views are listened to and take seriously by school staff, while nearly all of the teachers agreed. Additionally, 14.8% of pupils disagreed with the statement, meaning nearly one in six children don't feel their views were listened to or taken seriously by staff.
Two years later, I returned to survey the pupils who were now in Year 10. As before, a minority of pupils agreed with the statement, but what is telling is the percentage of pupils who disagreed jumped from 14.8% in Year 8 to 26.1% in Year 10.
The disparity between teachers' and pupils' perceptions illustrates a particular problem in contemporary schooling. For decades, a pedagogical shift in schools has changed how teaching and learning are understood and performed (Smylie, 1997; Smith, 1991). High-stakes testing, school performance, teacher accountability and international rankings have created school environments organised around an "ends-means" ideology (Amrein & Berliner, 2002; Nichols & Berliner, 2007). This view emphasises achieving an "end" without fully understanding how the "means" through which this goal is accomplished can impact pupils' rights, aspirations and sense of autonomy (Woolfolk & Hoy, 1990), as well as teachers' and pupils' personal efficacy.
Such a position is further exacerbated by dangerous rhetoric that undermines the credibility of children and how their claims of treatment at school are acknowledged and responded to by parents and teachers. Responses suggesting that, when discussing their interactions with teachers, "99% of the time… children are telling fibs…" perhaps tell us more about the teachers who hold that view than it does of the children in their care.
When talking to a child, we don't know at first if the child is telling the truth, but we should listen to the child, evaluate what's said and let them know we listen to and take their views seriously. Taking the default position that children lie 99% of the time is wrong, unfounded and dangerous.
Our learners in school, as Quennerstedt & Quennerstedt (2012) suggest, possess skills, perspectives, talents and knowledge that are both developed and in-development. Teachers and parents must be prepared to acknowledge pupils' existing development and potential growth. We must regard them as people possessing rights, and not only as pupils with the potential to be so once they've completed compulsory schooling. They must also be treated with dignity and respect, and granted (at very least) the benefit of the doubt when describing their interactions with teachers at school. Taking the position that children are unreliable or dishonest simply because they are children undermines the trust parents and children place in their school, and irresponsibly disregards the safety of children and the ethic of care that should guide teachers' practice.
Reflective Questions
How should teachers and parents respond to children's claims about their interactions with, or evaluations of, a teacher and their practice?
In thinking about your educational experience, did the ends justify the means?
What differentiates a child from an adult, and how are the rights afforded to both children and adults understood and acknowledged in school?
References
Amrein, A.L. & Berliner, D.C. (2002, March 28). High-stakes testing, uncertainty, and student learning Education Policy Analysis Archives, 10(18). Retrieved [date] from
Nichols, S., & Berliner, D. (2007). Collateral Damage: How High-Stakes Testing Corrupts America's Schools. Cambridge, MA: Harvard Education Press.
Smith, M. (1991). Put to the test: The effects of external testing on teachers. Educational Researcher. 20(5). Pp. 8-11.
Smylie, M. (1997). From bureaucratic control to building human capital: The importance of teacher learning in education reform. Arts Education Policy Review. 2. Pp.35-38.
UNICEF (2016). The United Nations Convention on the Rights of the Child. Retrieved from http://www.unicef.org.uk/UNICEFs-Work/UN-Convention/?gclid=CNuayOO2684CFZUK0woda7EDNA&sissr=1 on August 31, 2016.
Woolfalk, A. E. & Hoy, W. K. (1990). Prospective teachers' sense of efficacy and beliefs about control. Journal of Educational Psychology. 82(1), pp. 81-91.