Our circular economy makeover
27 February 2020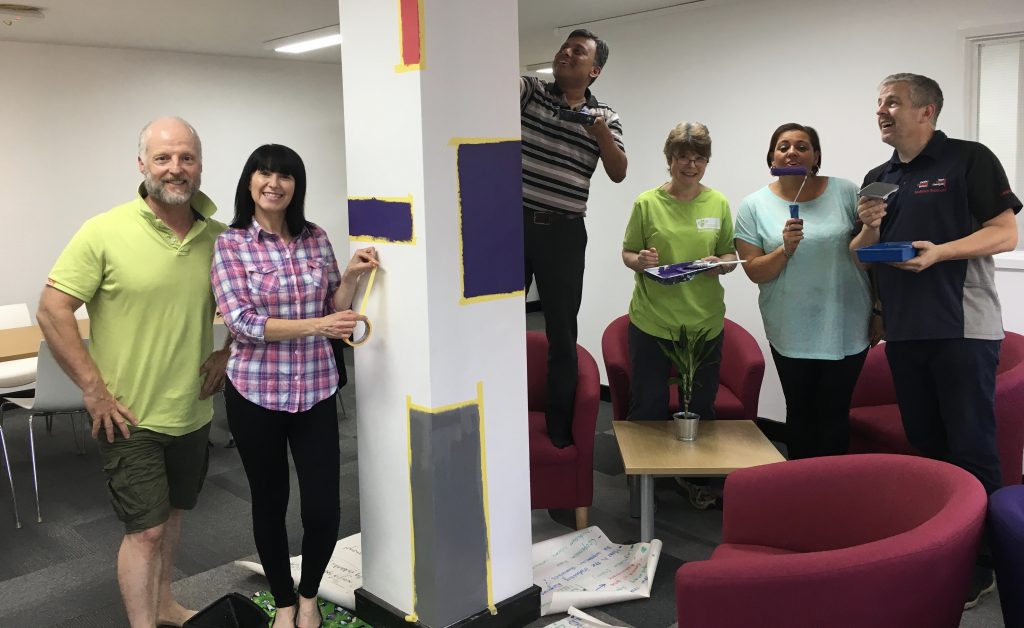 In the summer of 2019, Dr Carolyn Strong and Cardiff Business School's Estates Strategy Committee, set about a refurbishment project with a difference. They wanted to breathe new life into our offices, teaching rooms and social spaces in a way that wouldn't compromise our public value principles.
Sourcing and installing circular economy products from UK businesses and social enterprises Rype Office, Greenstream Flooring and Merthyr Tydfil Institute for the Blind (MTIB), the Team has transformed the Dean's new office space, twenty academic staff offices and a staff common room.
With more renovations on the horizon in 2020, Dr Strong told us about some of the motivations behind this ambitious project.
This all came about when the School's Estate Strategy Committee (ESC) got going. I chair the committee and, after initial discussions about our aims and ambitions, I submitted a request to the School Management Board for funds to renovate our staff common room and kitchen.
We were successful in our application and immediately set about finding ways to make what was a pretty dreary space into one staff would enjoy using.
Linda Hellard, who was part of the group until her secondment to the Data Innovation Accelerator Team, suggested we get in touch with Rype Office after she heard their owner Greg Lavery speak at one of our Executive Education events.
Gareth Hubback, our former Facilities Officer, and I worked with Greg to design the space within budget. However, we came up a little short. So, in order to complete the common room, we held a paint party one evening after work.
The combined efforts of our colleagues and the circular economy flooring and furnishings made it all possible.
"It's enabled us to make significant monetary savings on our procurement of furniture – we're talking 21% cheaper than existing university suppliers – while also supporting social enterprise partners in Wales. And that's not to mention the social and environmental benefits."
The sofas, for example, are all hand made to order by MTIB.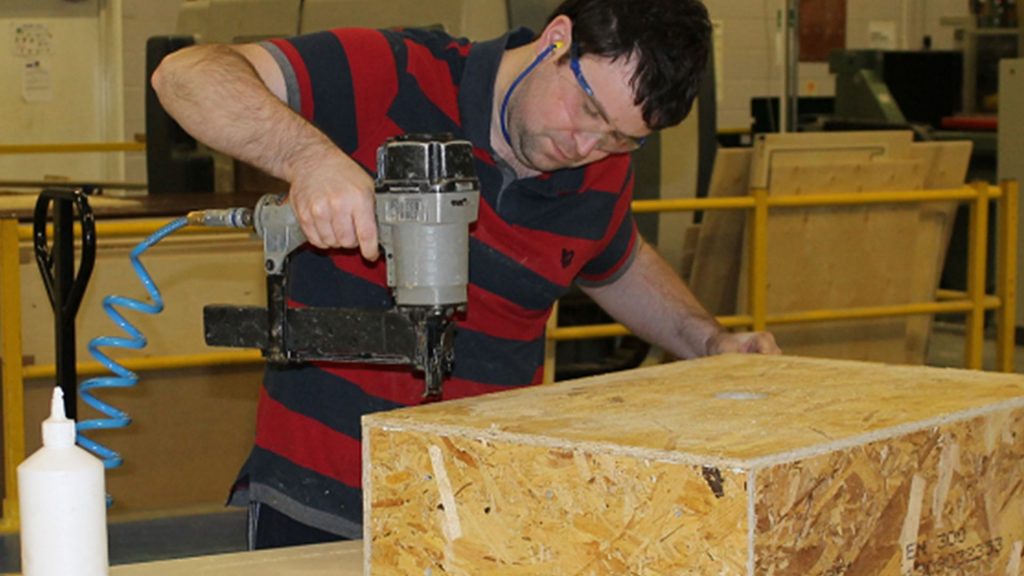 They're a supported wood manufacturing workshop, based in South Wales, offering direct training and employment to people with disabilities. They're also a supported employment agency, helping people through training and support, to achieve and sustain employment in the wider community.
So, by choosing MTIB, we're safe in the knowledge that we're investing in the economy of the South Wales Valleys, about 30 miles North of Cardiff University. And also, we're contributing to employment and training provision for those with disabilities in local communities such as Merthyr and further afield.
It's our duty, of course. But it's immensely satisfying, nonetheless.
The four Rs
Now, I'm no environmental economist – you'd have to ask Professor Calvin Jones for the exact reductions in our carbon footprint with this project – but wherever possible we've taken steps to source circular economy products.
And so, the four Rs – remanufactured, refurbished, reclaimed or redistributed – have become something of a mantra for our team!
All our carpets have been provided by Greenstream Flooring.
Established in the Rhondda Valley in 2008, and in response to the number of carpet tiles being wasted or sent to landfill, they're specialists in supplying and fitting refurbished used carpet tiles.
Their approach saves carbon and enables them to provide low-cost flooring to people and organisations who couldn't otherwise afford the service.
Like MITB, the revenue generated through carpet sales means they can provide training and volunteering opportunities for long term unemployed people or people suffering health issues.
Former-life furnishings
Our pre-makeover staff common room

Removal of staff pigeonholes has made space for informal seating pods

A dining and meeting table

And social seating space

The Dean's new office has tiled carpeting courtesy of Greenstream Flooring and furnishings from Rype.

Staff offices have been refurbished in a range of colours to suit colleagues' tastes.
The under-desk units in all the new offices are remanufactured pedestals from established brands like Steelcase and Bisley.
In their former lives, they were used in the offices of the French International Banking Group, BNP Paribas SA. Likewise, the tables too are refurbished from our old snack bar in the School's Aberconway Building, others came from the Carluccio's restaurant chain and Goldman Sachs.
Some of the electric desks were previously homed in Amazon offices, desk chairs were used by Groupon and our new meeting chairs are reclaimed from Marks and Spencer offices.
The wood from our old boardroom table along with old furniture that once cluttered our store cupboards and corridors has also been reclaimed or redistributed across the rest of University and local charity organizations
The tables too are refurbished from our old snack bar in the School's Aberconway Building. wood from the board room table is being reclaimed And, any old furniture that once cluttered our store cupboards and corridors is being reclaimed or redistributed across the rest of University.
It's this type of thing that's Rype's unique selling point. As Greg Lavery, who founded the company, said to me: "We set up Rype Office because we were amazed at the poor practices of the furniture industry…"
"300 tonnes of office furniture go to landfill every working day in the UK and the whole supply chain is set up to sell new furniture made mostly from virgin resources."
Rype's success has been underpinned by the quality of their work; they have a team of engineers looking for and developing remanufacturing solutions to return furniture to as-new condition.
And as Greg explains: "It's also fair to say that we've been lucky with our timing. The Well-being of Future Generations (Wales) Act of 2015, climate concerns and popular interest in the circular economy have been very helpful drivers of customer enquiries."
According to their sources, 'furniture from virgin resources contributes 30% of the carbon footprint of a commercial building over its entire life'. Rype rejects these damaging practices which drive up costs, greenhouse gas emissions and waste by remanufacturing and creating furniture from waste such as plastics.
Like MITB and Greenstream, they too generate social value from a circular economy approach by employing local long-term unemployed and staff with disabilities.
"What can I say? There have been some setbacks along the way, but I really believe that this is the way forward for refurbishment projects in the School. It's about practicing what we preach! Bringing social business into the School to co-create solutions in an economically, socially and environmentally sustainable way."
Looking ahead
As for the next phase, well we've extended the refurbishment project to a further 18 offices with ten more scheduled for renovation during the upcoming Easter vacation. This means all our new academic colleagues can move into newly refurbished circular economy offices.
It's enabled us to better utilise the space in our Aberconway Building, by dividing large offices into two or three new rooms. But beyond that, the project has also enabled health and wellbeing outcomes for our colleagues.
Staff have told me that they feel like the newly refurbished spaces have given them a renewed focus on wellness, including ergonomics, biophilia and healthy offices.
This is an incredibly rewarding outcome for me.
Most recently, space formerly occupied by our Dean and its adjoining Boardroom has been overhauled. Nearing completion, this will extend our capacity for executive-level teaching and learning provision.
Dr Carolyn Strong is a Reader in Marketing and Strategy at Cardiff Business School.
The Estates Strategy Committee provides strategic and operational guidance on estates matters and monitors progress on enhancements, to ensure the Cardiff Business School estate provides an effective context for working, learning and generating knowledge for social and economic improvement.
---
Comments