Proud to be International
27 October 2016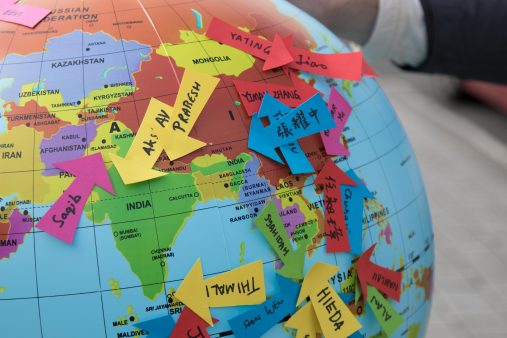 Universities across the UK are backing a campaign to ensure that their international students, staff and activities receive the recognition that their contributions deserve.
#WeAreInternational started at Sheffield University in 2013 but has been relaunched in light of the EU referendum vote and now has the backing of more than 100 UK universities, including ourselves of course. The campaign calls for universities to be given the tools and policies needed to remain open, friendly, inclusive and diverse. Who could argue with that?
This University has more than 7,500 international students and staff from 78 countries who make an enormous contribution to the University, the city region and the country. Our international staff and collaborators all over the world are key contributors to the excellence of our research and teaching.
Scholarship winners from no less than 45 countries were welcomed by senior University staff at a reception at Aberdare Hall earlier this month. They will bring knowledge, creativity and innovation to our University and the local community.
We're going to be highlighting some of these benefits during #WeAreInternational's World Week from 24-30 October so please keep an eye out for the hashtag on social media. We want students and staff to show their support for the campaign by sharing their international activities by tagging @cardiffuni and using the hashtags #weareinternational #cardiffuni.
To truly appreciate the international nature of our students, take a look at this film that we're using to promote #WeAreInternational. And if you want to know more about what we're doing for World Week, have a look at this story.
Read about our strategic direction and focus on research and innovation, education, international and engagement.