International Scholars' welcome reception
11 October 2016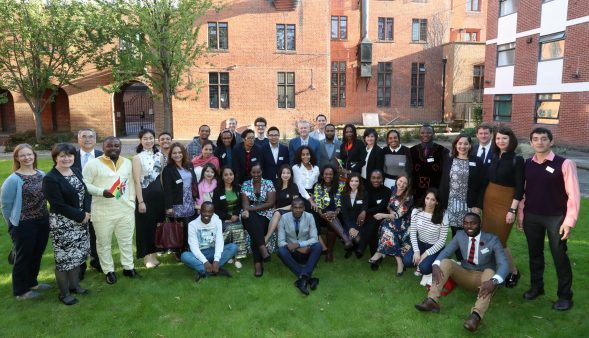 On Wednesday 5 October I attended the International Scholars' Welcome Reception at Aberdare Hall, an event opened by our Vice-Chancellor, and which served to provide a warm welcome for our international scholarship winners. As a University we welcomed our highest number of international scholarship students in 2016/17 and this event was an opportunity to celebrate our continued support of the ambitions of talented students.
Scholarship winners from more than 45 countries met at the Reception, making new connections and discussing their first impressions of Cardiff.  The event was a real reflection of our growing internationalism – I was struck by the number of students attending, more than in any previous years – and the number of countries represented, many attending in national dress. For many of the students, it was their first time in the UK, but instead of any anxieties about starting new courses, they displayed an overriding sense of joy at studying abroad. They were all immensely proud of attending Cardiff University, and felt that it was a very special place to be.
Most students had already started on their courses, were enjoying the teaching and were impressed with the quality. They all seemed to be working hard to keep up with the challenges and it was encouraging to see firm and fond friendships forming already.
The photographs taken show Aberdare Hall, a fantastic venue for such an event, on a particularly sunny day, but I had not expected to be asked so much by the students about the weather and for advice on clothing! None seemed daunted by Wales' somewhat capricious climate, as many had come from countries where the lowest average temperatures rivalled Wales' highest, and many were hoping to see snow.
Students from all of the Colleges attended, from a variety of subject areas and on both undergraduate and masters courses. It was great to see representatives from Chevening and the Commonwealth Scholarship Commission at this event, which reflected the real range of study options available to international students at the University.
Read about our strategic direction and focus on research and innovation, education, international and engagement.