Wales vs England. A Twitter Story
21 February 2017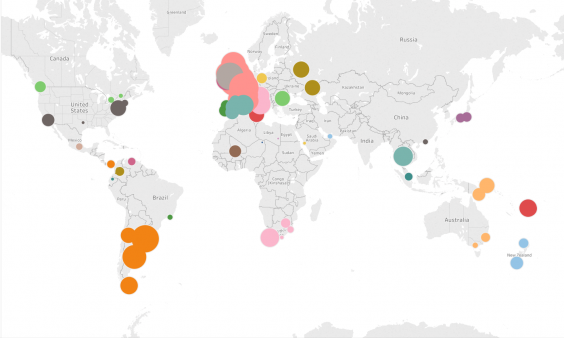 *Following is a joint-post with Nye, Steffan and Aled*
And Now For Something Completely Different…
We decided to have a bit of a break from politics/law last week on Thinking Wales, with the team all rather distracted by what was going on in Cardiff on Saturday, February 11th. Whilst devastated with Wales' last minute defeat to England, we did manage to find something to get excited about at Thinking Wales HQ. Combining Jac's love of data and our collective passion for the game, we decided to undertake some research to see what was happening on Twitter; prior, during and after the game. This work has provided some rather interesting results.
Using Cardiff University's COSMOS software we collected data on tweets about the Wales vs England game on Saturday February 11th for 24 hours either side of the game. This amounted to just shy of 1 million tweets (impressive, we know). We then analysed this data to develop a story of the game, beyond the 80 minutes that took place on the pitch (if you want more information about methodology, leave a comment and Jac will be happy to respond). We are already planning on doing the same for the next Welsh football international, and if this sort of thing is popular, we may do more in the future.
Who was tweeting?
As you can see from the map above, the Six Nations really is a global sporting event with the COSMOS software collecting tweets from each of the earth's continents bar Antarctica. Each circle represents a significant cluster of tweets from a single geographic location (i.e. city/town). The larger the circle, the more tweets coming from that location. As less than 10% of tweets contain a geographic 'tag' there are of course far more tweets sent than shown in this map. We have also grouped tweets to the nearest significant cities/towns in order to clean the pictures up a bit. When looking at the map in more detail, however, a few results seem particularly interesting.
Rugby is on the rise in Argentina. More tweets were collected from Argentina than from traditional rugby strongholds such as New Zealand, Australia and South Africa. One reason for this may be the fact that it was early afternoon in Buenos Aires when the game kicked off (13:50 local time), whilst it was the early hours of the morning in Wellington (05:50) and Sydney (03:50). Whilst this may partly explain why more people were active on twitter in Argentina than in Australia and New Zealand, the same cannot be said about South Africa where the local time at kick off was 18:50. Perhaps this may reflect how the game in South Africa is still a game of the white minority.
A close study of the tweets collected in Argentina provides one further interesting result. The software collected 382 tweets about the game from the area around Trelew, one of the principle towns founded by Welsh speaking settlers in Argentina in the late 19th century. The results (comparable to  Welsh towns such as Welshpool  and Cardigan) suggests that there remains a strong interest in Welsh culture and sport in Patagonia.
In addition to suggesting that rugby is on the rise in Argentina, the data collected also demonstrates just how much Pacific Islanders love their rugby. If we add together the tweets coming from Fiji, Tonga, Samoa, the Cook Islands, Vanuatu, and several other small nations then, despite a population smaller than that of New Zealand and a twentieth of that of Australia, almost the same amount of Twitter activity was recorded here as in their larger neighbours. With a number of tweets also being recorded in Papua New Guinea, it seems clear that there is a real passion for the game amongst South Sea Islanders  not being fully harnessed by World Rugby.
Having looked at the picture globally, the following three maps look closer to home.
Whilst there are many stories that can be pulled out from these pictures, we only focus on a couple:
1). The map of Wales seems to disprove a common myth about sport in Wales; that rugby is the sport of the south whilst football is the sport of the north. The map above shows that there was a high number of tweets in every major urban area in Wales. In fact, more tweets were recorded in Caernarfon than in a number of larger, "rugby" towns in the south, including Bridgend and Newport. The map also demonstrates that despite the much publicised debates over the representation of the south Wales valleys within professional rugby, the game still remains popular there, with high number of tweets being recorded in towns such as Aberdare, Caerphilly and Pontypridd.
2). Whilst the data collected in Wales show that there was nationwide interest in the Wales v England game, the same cannot be said about England. Interest in the game was largely confined to the game's heartlands in the midlands and in the south. In Gloucester, 1,026 tweets were recorded, whereas in Liverpool by contrast, there was hardly any significant activity. Whilst the number of tweets recorded in Birmingham, Leeds, Manchester, Newcastle and Sheffield does suggest that there is room to grow the game in non-traditional areas, it seems that the efforts to do so to date have failed.
What were they saying?
In Wales, a familiar name pops up most often: Alex Cuthbert. The Cardiff Blues winger was much discussed by people in Wales, with many (perhaps unfairly) finding fault with his failure to tackle Wasps wing Elliot Daly (also a popular name for discussion) before he could secure the win for England. Jonathan Davies – who kicked the (questionable) clearance that lead to Daly's try – doesn't seem to feature much.
Howley, Biggar and Moriarty also featured heavily. Howley found himself under pressure after the match, being heavily criticised for replacing Moriarty who was having a huge impact on the game with some strong ball-carrying and ferocious tackling.
Unfortunately, 'Lose' was another popular term. Welsh fans had been tweeting about the 'Great' and 'Awesome' match, but this was swiftly replaced by another popular term: 'Bolycs'.
Moriarty and Biggar again feature in the tweets from England, both being widely acknowledged to have had very strong performances. 'Incredible', 'Sweet' and 'Amazing' sum up the reaction of England supporters after Daly's try and England's victory. The most prominent term of course was: #Grandslam. Before even facing the task of a resurgent Scotland side and Ireland in Dublin, confidence is high amongst English supporters (dismissing of course Italy who conceded 63 points at home to Ireland).
Past glories are popular with English fans, with 2003 and England's World Cup hero Jonny Wilkinson featuring prominently. Also noteworthy is the term 'sheep' being fairly popular amongst tweeters in England. Just as past glories die hard, it seems that old, outdated references to Wales and sheep die hard too.
How were they saying it?
Overall, there were 39 languages identified (likely to be more as there were over 65,000 tweets in a language that wasn't recognised) – showing that the game truly had a global reach. Unsurprisingly, English was the dominant language of the game, followed by French, Spanish, Welsh, Italian, Portuguese, Japanese and German. What is interesting to note is the number of tweets in Spanish. We saw previously the high volume of tweets from Argentina and this has resulted in a surprising number of tweets in Spanish. The rise of the game in Argentina is extremely noticeable from the data.
When were they saying it?
The tweets also allow us to predict to the minute when big moments happened in the game, with spikes in the volume of tweets the result of tries. There is no question on the most popular time for tweets – Elliot Daly's try led to a spike in tweets, followed by a huge spike at the final whistle. These moments are presumably when '#Grandslam', 'Incredible' and 'amazing' featured in tweets from England and when 'lose' and 'bolycs' featured in Wales!
Wales vs England was an exciting test match, providing almost everything you'd want (apart from a Wales win of course!) from a 6 nations encounter between two fierce rivals and an analysis of the data offers a real insight as to how the world reacted to it. Here's hoping that 'lose' and 'bolycs' don't feature during the next Wales match!
Additional Bits of Interest 
The picture in France has much in common with the situation in England. As noted above, interest in the game in England was largely confined to its traditional heartlands. Whilst there was some twitter activity in non-traditional rugby areas such as Birmingham and Sheffield, in other large cities such as Liverpool, the game attracted almost no attention. The same was also true in France as can be seen from the two maps above. The map on the left sets out the areas where there were a high number of tweets. The map on the right, on the other hand, demonstrates the location of the 14 clubs that make up the Top 14, the top division in French professional rugby. Both maps correspond almost exactly. When the rugby towns of Narbonne and Perpignan (both of which's clubs now play in the second tier) and the city of Marseilles (a city that has hosted fixtures for Toulon) are discounted, Calais, Royan and Orleans are the only towns and cities in France within which any significant Twitter activity was recorded where there has been little top flight rugby.
The above picture is probably the most complex graph included in this blog and, in fact, is so detailed that just opening the graph as an image will crash most computers. Its included here as a more simple image. It's a visualisation of the Twitter network surrounding the game. The larger, paler circles you can see represent the Twitter accounts which had the most 'impact' in terms of Retweets and Mentions. The three largest circles you can see are the most influential Twitter accounts, and interestingly, are all Welsh: @GarethBale11, @Welshproblems, and @WelshRugbyUnion.
Other notable mentions go to @EnglandRugby, @TSBible (The sports bible), @WelshDalaiLama and @WalesRugby.
The fact that the tweeter with the biggest 'impact' is a footballer is perhaps a topic of discussion for another blog…
---
Comments
Join 35 other subscribers