MAGMA Summer Outreach – Nadine Aziz
12 July 2022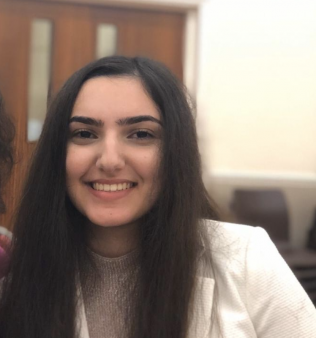 MAGMA is proud to be a part of Cardiff University's brand new "Innovation and Industry On-Campus Internship" scheme. The scheme allows undergraduate students who have yet to finish their degree the opportunity to work alongside a variety of research groups in the University over their summer break to learn new skills and gain invaluable work experience. Nadine Aziz, who has just finished her 2nd year of studying Medical Engineering, will be working with MAGMA to help with public engagement activities and create a diverse range of resources for the public to spread awareness of MAGMA's work and subject area. One of Nadine's key areas of focus will be the Magnations Project which has seen MAGMA working with local schoolchildren to create animations about magnetics.  
Nadine has said: 
"I am very excited and thankful to start working with MAGMA over the summer. This internship is the perfect opportunity for me to improve upon essential skills that will be vital in my professional future, while doing work surrounding areas that I am passionate about; such as helping and teaching others and creating media. I have found the history of the development and uses of magnets and magnetic materials an area of great interest, but magnets and magnetic materials as a whole is a subject area in which I am eager to increase my awareness and learn more about." 
Keep an eye on this blog and our social media over the next few weeks for updates on Nadine's work and to found out how to access the finalised Magnations (magnetic animations) created in partnership with schoolchildren.
MAGMA CURRENTLY HAS A TIME-LIMITED OPPORTUNITY FOR COLLEAGUES FROM INDUSTRY OR OTHER ACADEMIC INSTITUTIONS TO USE OUR FACILITIES FOR FREE. Contact magma-project@cardiff.ac.uk to find out more
Search this blog
European Regional Development Fund