'The librarian's role in developing digital literacies' – Friday 17th July
14 July 2015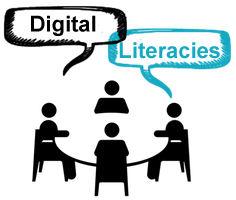 Hadyn Ellis Building. Cardiff University. Friday 17th July
Overview:
The purpose of this event is to provide an opportunity for librarians working in College, FE and HE libraries to learn from each other about approaches to developing staff and student digital literacies. This is an area where many libraries and librarians are still thinking through and coming to terms with varied terminology, ambiguous concepts and challenging logistical issues. The intention is to not load the day too heavily with theoretical debate but to focus on identifying and sharing workable solutions. No doubt questions will arise throughout concerning different interpretations and understandings of skills, literacies, capabilities, competencies and proficiencies, but hopefully common ground will emerge through considering the kinds of digital practices people perform. The aim is for people to go away with a least one idea they feel they can try out in their own institution.
This event is kindly sponsored by CILIP Wales and the CILIP ILG.
Full programme:
Digital Literacies Event – Full Programme
Programme overview:
9.30 am – Registration
10.00 am – Preliminaries
10.05 am – Janet Peters. Welcome.
10.15 am – Activity: Are you a digital visitor or resident?
10.30 am – Lis Parcell. Digital literacies and libraries – setting the scene.
11.00 am – Nicole Hinton. Developing digital confidence in library staff.
11.30 am – Coffee/Tea – Networking
12.00 pm – Teachmeet session
13.00 pm – Lunch – Networking
13.45 pm – Aimee Cook. Librarian heal thyself – building staff digital literacy training from scratch: The Newcastle approach.
14.15 pm – Activity: Idea generation and exploration in response to "What role should librarians have in developing student and staff digital literacies?"
14.45 pm – Katherine Reedy. Digital literacy for distance learners: the OU story.
15.15 pm – Joe Nicholls. Looking to the future: The librarian's role in developing digital literacies.
15.45 pm – Feedback from idea Generation and exploration activity and wrap up.
16.00 pm – Close.
---
Comments