What to do for Valentine's Day
8 February 2022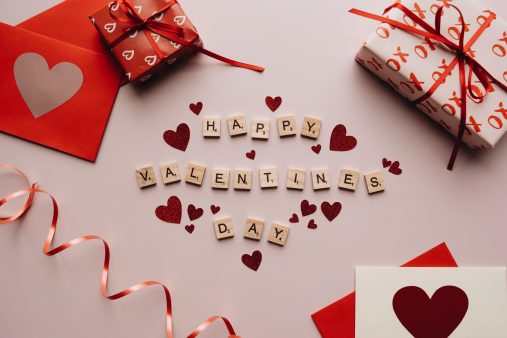 What to do for Valentine's Day in Cardiff
Valentine's Day, celebrated on 14th February is a fun day to celebrate whether you are in a relationship or not! Celebrating with your partner or with your friends, this blog gives you ideas on how to have the best Valentine's Day celebrations. 
First up, let's discuss flowers! You could easily go to your local Tesco or Sainsbury's to grab some flowers but there is something so special about fresh flowers from a florist. Flowers from a florist are more likely going to be eco-friendly, with flowers being picked in season and locally. There is a flower shop in Cardiff Market in the city centre called Secret Garden Florist. They have a range of flowers and you can order Valentine's Day specific flowers that can be delivered to any address in Cardiff. These flowers are perfect as a Valentine's Day gift or as decor for celebrating the day of love. Secret Garden Florist also sells plants and succulents which is an even more eco-friendly option compared to supermarket bought flowers. The plants and succulents come in beautiful ceramic pots that make for great Valentine's Day gifts – @secretgardencardiff on Instagram. Whilst in the Cardiff Market, you could also grab some delicious sweet treats from The Naked Vegan or Welsh cakes from Cardiff Bakestones which make for lovely gifts.
Speaking of gifts, there are many options you can choose from in Cardiff. The city centre is full of high street brands and independent gift shops. Cardiff Creative in the Queens Arcade sells a wide range of amazing handmade gifts made by local artists and makers. There really is something for everyone in Cardiff Creative from jewellery to home decor to clothing to paint your own pottery sets. For tea lovers, I'd recommend checking out Bird and Blend which is an eco-friendly loose tea shop in the Castle Arcade. They have tea-related gifts suited for any occasion as well as their range of uniquely flavoured loose tea. It is definitely a place to go if you are having trouble thinking of a great gift whether the person loves tea or not! Lastly, you can never go wrong with sweets/chocolate. The Kingdom of Sweets do Valentine's Day specific gift hampers, as well as product-specific hampers and a vegan hamper, so no one is disappointed. The Kingdom of Sweets hampers are perfect as a gift or to enjoy with friends for a Valentine's night in. If you still are not sure what to give your friends or partner, then stroll through all the arcades that are full of great independent shops that make amazing gifts. 
Once the flowers and gifts are sorted, it's now time to think about what to do on the day, or because Valentine's Day is on a Monday, the weekend before. A trip down to the bay is always romantic, but wrap up warm against the cold winds! There are plenty of restaurants and cafes to keep you occupied for a few hours. Another thing to do is mini-golf in the St David's Treetop Adventure Bowling, escape rooms, karaoke, retro games and cocktails are all available at Play at Pins or you can keep it simple with a walk around Bute Park and back home for movies and food. 
If you want to order food online, I'd recommend Barburrito or Box Burger on Deliveroo which both have great options for meat-eaters and vegans. If you want to go out for lunch or dinner, there are multiple romantic spots in Cardiff. Barker Tea House located in the High Street Arcade is a good place for Valentine's Day brunch with friends or your significant other. They have a large tea menu as well as a range of vegan and non-vegan food options – @barkerteahouse on Instagram. The atmosphere in the arcade and in Barker is definitely romantic. Although the name might suggest otherwise, The Potted Pig has a great atmosphere and a romantic menu, though nothing suitable if you are vegan. If none of those suit you and your partner, then a brief walk around town will show you the range of restaurants you can choose from. 
I hope this helps you plan your Valentine's Weekend!
Stay tuned for more videos and blogs!
Miah x