What do students do on a sunny day in Cardiff?
6 April 2022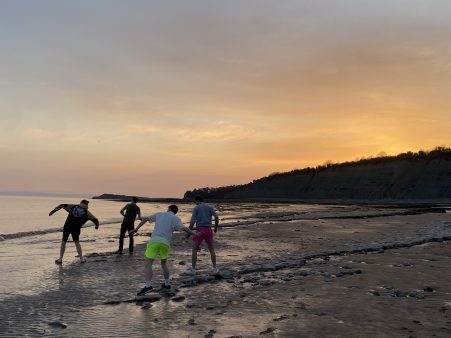 Every once in a while in Cardiff, the rain clouds disappear and the warm hue of summer begins to appear on the horizon. Such sunshine interrupts the regular schedules of students, having the luxury of multiple parks, the nearby sea and a plethora of outside leisure facilities. As such, those studying at Cardiff tend to plan a mini day-out during such good weather, with these being the most common activities and places to go on such a day.
Bute and Roath parks are two large, green expanses with unique features giving them their own character. Bute Park is vast, in reality being made up of multiple open spaces, surrounded by trees that act as a façade to cover the urban skyline, and divided by the shallow river Taf that continues past the Principality Stadium and into Cardiff Bay. Roath Park is smaller, yet still with ample space for football and rugby, with a lake in the north section and walkways surrounded by flower gardens in the centre. Students will descend en masse to such greenery upon the arrival of warm weather, either to relax and take the day off by kicking a ball around and having a picnic, or to get their day's work done in a nicer environment than their bedroom. Being so close to the university (no more than 15 minutes' walk from Cathays's residences), these locations are perhaps the most popular for students, with less common spots being as follows.
Cardiff Bay is the home to a multitude of entertainment and leisure facilities, however the reason for most students' visits on a summer's day will likely be the draw of the sea. The Bay itself is not your typical seaside resort, but for those who fancy an adventurous bike ride or hike, the sea breeze keeps you cool and refreshed with many places to grab a bite to eat as a reward on location. If you do not fancy the 45 minute walk down there, then a shuttle train from Queen's St. Station completes the journey in around 5 minutes.
For those beach lovers amongst you, Barry Island is the ideal bustling seaside resort for you. Just a 30 minute train journey away, Barry is home to sandy beaches with multiple alcoves, and is complemented by funfair rides, arcades and of course: fish and chips and ice cream vendors. Just because it's Wales doesn't mean that the sun won't take its toll though, and it is recommended that you bring factor 50 and lots of water to accompany the crates, marshmallows and burgers that students often prioritise. As those adventurous enough to leave Cathays return in the evening, they will find the remnants of those whose summer adventures took them no further than their local pub. With beer gardens in almost all of the Cathays establishments, these are just one other option for those who don't want the hassle of travelling too far, and maybe just have to finish that one last paragraph in their essay before relaxing for the evening.