Things to do in your free time at home at university
24 October 2020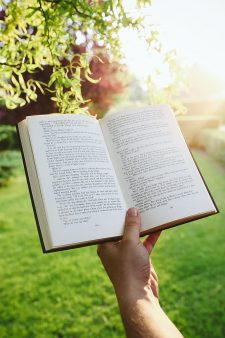 With COVID restrictions, there is a lot of time spent at home or in your term time accommodation. Here are some ideas of things you could get up to in your spare time:
Read a book
Reading is such a good way to let your mind relax and forget about all the stress and worries of everyday life. Books are cheap and they are easy to get. I have found some really good second hand books on Amazon UK and Ebay UK.

Watch TV
Watching TV is another good way to relax and enjoy yourself. Make sure to check if you need a TV license. There are many apps you can watch TV on including: Amazon Prime Video, Netflix, BBC IPlayer, ITV, All4. You can also watch TV by yourself, with your flatmates or with friends, so it is such a good way to socialise and unwind.

Cleaning
Cleaning is a job that all students don't like to do, but it is really important to keep a clean room, bathroom and kitchen, especially during COVID-19. In your free time, even just a hoover around your room and bathroom makes it a much cleaner space to be. If you share a kitchen it is always good to sustain a rota early on, to make sure everyone does their bit. Make sure you let your housemates or flatmates know when your free time is, so they know when it is best to put you on the cleaning rota.
Study
The reason we are at university, to STUDY! Free time is definitely a good part of the day to study and ensure you are up to date with revision and assignments. The best way I have found to plan when to study is buying a big wall calendar, you can find these at places like Amazon UK and Wilkos.
Bake
It is the Bake Off season at the moment, so baking is definitely something I enjoy doing in my spare time! Baking is cheap and easy to do! I bought a baking tin and some wooden spoons in my first year from Poundland and then I got some little scales from Wilkos and I haven't stopped using them since. Some of my favourite things to bake include: brownies, oat biscuits and banana bread. BBC good food is a great website for recipes, please see the link – https://www.bbcgoodfood.com/.
Cook
Cooking is a student's worst nightmare because of all the washing up that comes afterwards. However, cooking when I'm free is the best thing I do to save time. A tip I find really helpful is cooking a big batch of something and then freezing lots of portions to save me time in the future.
Washing your clothes
Washing your clothes can take up a lot of time, especially if you are budgeting and hang it all up in your room to dry afterwards. I find I have to plan this into my week to make sure I have enough time for my clothes to dry for my week ahead.
Talk to your flatmates
Talking to your flatmates, especially in the first semester is really important to get to know them. Your spare time is a great opportunity to go and speak to your new flatmates. This could consist of you talking to your flatmates in one of your rooms, talking in the kitchen, going for a walk with them or going out for a bite to eat.
Buy a takeaway
Especially when you've just been studying, what a better way to end it than treating yourself and ordering a takeaway. You can go and collect a take away or order one on apps like deliveroo, just eat and uber eats.
Do a home workout
There are so many free workouts on youtube, my favourite workouts are the dance ones. These are a fab way to keep active in your spare time.

Painting or colouring
A mindful activity such as painting or colouring can be such a good way to relax. You can buy lots of craft things at a good price from The Works and you can find lots of craft ideas on apps like pinterest.

Talking to family or friends virtually
With all the virtual technology available, chatting to your family and friends will be like you never left home and is a great way to end the day!
I hope you found this blog helpful! If you have any questions about Cardiff or Cardiff University please feel free to message me using the UniBuddy service.