The "Inside Out" festival experience
9 May 2022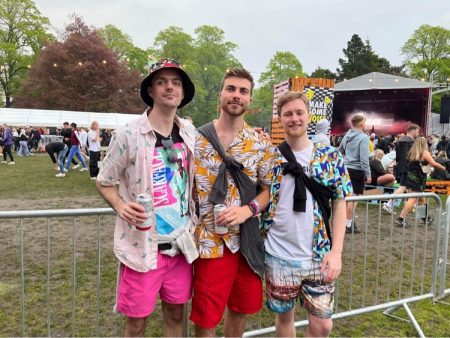 Every so often the fields of Bute Park are transformed into a festival of music and frivolity, with huge names coming to perform and DJ in front of thousands of the people, both from Cardiff and those having swarmed in from the surrounding area. Put simply, it is an outdoor party lasting from 12 – 10pm, with a dress code ranging from the participants' most outrageous floral shirts and bucket hats to assorted netting and jazzy sunglasses. Here is a summary of the festival and my experience of their most recent event.
Being an outdoor event, the festival will always run the risk of Welsh weather (usually with threat of rain whatever the sky looks like), and upon my visit there had been a little downfall, however the ground was not too muddy and it barely had an effect on our mood. Just remember to pack a poncho! If you are a fan of EDM and D&B music then this is the place for you, with two main stages and additional VIP areas, there was no shortage of DJs and a variety of music should you prefer one performer to another. We were even graced with visits from celebrities such as Yung Filly and superstars such as Idris Elba. Who knew he was a part time DJ on the side? The crowds themselves were made up of a sea of bucket hats, bum bags and girls on shoulders, seeing the occasional mosh pit from afar. Everyone was just there to have a fun time and all of those whom we talk to were particularly friendly.
Long queues and expensive prices are things that are often associated with the festival experience, however we found that despite the thousands of attendees, the queues for drinks, food and toilets were pretty minimal, though we may have had an advantage in terms of toilets, being in the VIP section. The drinks and food were moderately expensive but not too much so, and the burgers we had were gorgeous. Writing an article for The Tab Cardiff at the time, my colleagues and I interviewed many of the other participants and the feedback was all positive, though some were slightly disappointed that the glorious weather that we had been having did not last one more day. The visible presence of the Heddlu (South Wales Police) and Inside Out's own security was reassuring, though I personally did not see any incidents that they actually needed to deal with in the end, and getting through security at the gate was quick and efficient. Ultimately, even if festivals are not really your thing and you haven't been to one before (just as I had not), the electric atmosphere alone will make your day, ending up being fuelled by the performers' energy and crowd's excitement leading to a day out that will likely be a highlight in your time at university.