The best Pub Quizzes for students in Cathays
28 June 2022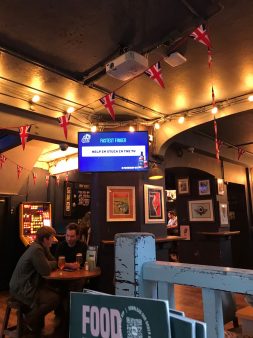 Whilst at university, you will undergo a plethora of different forms of assessment, from formative and summative essays to dissertation presentations. However, many students enjoy testing their knowledge in a more relaxed and inconsequential setting, and as such the pub quiz has become a popular medium of entertainment and socialising whilst still acting as a small brain teaser for students. Whether you go with your course mates, flatmates or even by yourself, here are some of the most popular pub quizzes in the student residential area of Cardiff, Cathays.
Beginning within the Student Union itself, the pub "The Taf" hosts a traditional pub quiz every Thursday, usually being slightly more tailored towards students than other general knowledge quizzes. There will be approximately six rounds of ten questions, the titles of which can range from Medicine to Ed Sheeran, and once you have written all of your answers down, you pass them to a nearby table to peer mark and laugh at how little you know about the bones in the human body. There is often a music round, in which you receive points for correctly identifying the artist and song title, whilst occasionally there will also be picture or logo rounds, where your team spends the next 15 minutes arguing if an image depicts Judi Dench or Angela Merkel. Whilst it is always ideal to have a wide range of knowledge in your quiz team, it is particularly so in the Taf Quiz, since many rounds will be course specific, and should you receive questions on Biology, and your whole team studies English or History, you might find yourself at a disadvantage. The prize for winning the Taf Quiz is a minute behind the bar with some of your team members, pouring as many drinks for your team as possible before the time is up.
Another particularly popular quiz is that run by the app "We Love Quiz". This takes place at the Woodville and Gassy's pubs on Sunday and Thursday respectively. This quiz is a high paced and interactive challenge, with questions being announced to everyone. Before the competitors race to answer correctly on the app. The caveat to this quiz is that you put down the first letter of the answer, so you can occasionally get lucky even if you thought the capital of England was Luton. Points are awarded not only for the correct answer, but also for the speed in which you team answers, hence the competitiveness of each round, with the "fastest fingers" being put up on the screen following each question's results. Similarly to the Taf Quiz, there are music and picture rounds where you might have to identify an artist or song title through audio on non-verbal mediums. This quiz feels particularly engaging due to the back and forth with each team racing to be the fastest to answer correctly, and the collective sighs and cheers as each answer pops up on the screens. Finally, the Mackintosh, Crwys and other pubs also hold traditional pub quizzes that combine elements of the Taf's and Woodville's events, and so there are plenty of options for students wanting to sink their teeth in to some quizzing.