The best places to find your fancy dress pieces as a student in Cardiff
7 June 2022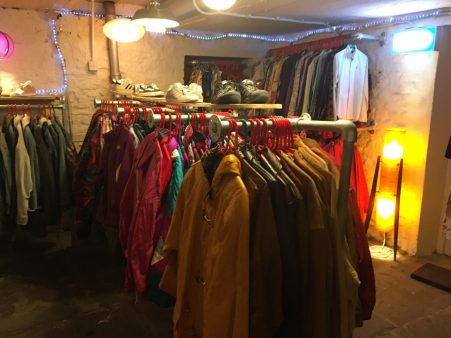 Whilst at university, many students find that it is not simply during Halloween or other public holidays that they dress up. Many societies and individuals alike host themed events, where your costume will often define your night. These outfits can range from those of pop stars for a night out with the Taylor Swift Society, to a "Chicken Run" themed social, where a couple of brave souls dress up as chickens, hide in a venue, and are sort out by the rest of the sports society in a giant treasure/man hunt. Being able to create costumes in short notice is the sign of any organised society member at university, and so here are the best places for students to find pieces for their costumes in Cardiff.
Beginning in the Capitol shopping centre at the eastern end of Queen Street, Flamingo's Vintage UK store is a charity shop that sells its clothing products by weight, allowing students to receive great value in the shop's kilo sales. Individual items can still be bought normally, but subsequently for pricing more in line with regular shops. Though the store is predominantly focussed on vintage fashion and everyday clothes, the vintage nature of many pieces, alongside their extensive collection of sports jerseys, means that Flamingo's is a wonderful place to find jackets, tops or bottoms for your next social. Another similar vintage shop is Hobos. This can be found alongside King Dickie Clothing in the Castle and High Street Arcades, tucked away in the beautiful boulevards. Hobos should partner with Doctor Who as it genuinely seems bigger on the inside, with a downstairs floor quite literally adding a whole new layer to the shop. In terms of its products, it is fairly similar to Flamingo's, except it has a lot more accessories such as bedazzled belts. King Dickie's Clothing on the other hand is a more up-market store, with particularly well looked after shirts and jackets, less aimed at a student target market but could still be worth a visit if you can not find what you are looking for elsewhere.
There are a number of charity and vintage clothing shops on Albany Road, around 10 minutes' walk to the west of Cathays, including BHF, Tenovus, Bobath and YMCA. These, like the aforementioned stores in the city centre, are perfect for finding cheap clothes items to make up your next costume, having myself found items there ranging from multicoloured cycling tops to an Obi-Wan-Kenobi one piece. Not only would they be ideal for providing you with affordable fancy dress pieces, but in many cases, you would also be contributing to dedicated charities that help tackle issues such as cancer and cerebral palsy. Should your antics in vintage and charity shops fail to find you a costume, then there are always a couple of dedicated costume shops in the city centre. Jokeshop and I C Fancy Dress are two such stores, with a plethora of complete costumes for almost any fancy dress theme, however the pricing reflects as much, being quite expensive for students. If possible, it is always recommended that you get creative with your interpretations of themes and try and make a costume out of individual pieces yourself. Yet, if that fails to yield results, then such fancy-dress shops and even amazon may become your best friend.