My Experience as a Student Mentor
26 February 2020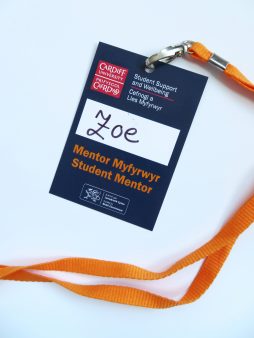 Starting university can be daunting for many reasons, but the Student Mentor scheme aims to ease this transition by assigning students with a student mentor. A student mentor is there to offer their mentees insider tips and support, answer questions, give advice and signpost mentees to the correct services.
When I started university, I was someone who had so many questions, so having a student mentor who could answer those and give me some guidance really helped me settle in. As someone who lives at home and commutes to university, I was also very apprehensive and quiet, and being in a group with other students was helpful.
I had such a positive experience as a mentee, so I knew when recruitment opened, I had to apply to be a mentor myself, and I did!
Why I did It
I applied to become a Student Mentor as I really wanted to give students the same experience I received as a mentee and help them settle into University life.
I felt that throughout my first year in University, I had gained a lot of knowledge and tips which would be useful to pass on. I was also quite nervous and apprehensive when it came to speaking in groups and meeting new people. I had never experienced having the responsibility of leading a group and creating content to cover.
The scheme gave me the opportunity to try something new. It enabled me to push myself out of my comfort zone, and I enjoyed it.
The Challenges
Whilst being a Student Mentor, there have been a few challenges I've encountered along the way. Overcoming these have played such a crucial part in developing my skills and have allowed me to learn so much about myself and others.
I had never had the responsibility of planning meetings around other people's timetables and commitments before, so being a student mentor made me aware of how attentive and understanding you need to be to not only your own time, but others.
One of the biggest challenges I had was keeping my mentees engaged. Students in first year are busy going out, making friends and have a lot of contact hours and deadlines. It was difficult to keep my mentees engaged and ensure that they would keep attending meetings in order to get the most out of it. To overcome this, I made my meetings as short and informative as possible and arranged when we would next meet in each meeting.
What I have Gained from It
The Student Mentor Scheme has been one of the best things I have done at university so far. It's helped me build a range of skills, and really develop myself as a person through not only the meetings with my mentees, but also the advanced workshop sessions held.
As someone who was once so shy and reserved, my confidence due to this scheme has really blossomed. I now feel confident speaking and working within a group and talking in front of strangers! Not only that, but my leadership skills and time-management skills have really improved by having the responsibility of planning sessions around others timetables and commitments.
My organisation skills have also enhanced as I had to set aside the time to plan sessions for my mentees which I knew would be both engaging and formative.
Overall, I would recommend the scheme to everyone. You should get involved whether you're a mentee or want to become a Student Mentor. I've applied to be a Mentor Consultant when I come back from my placement year in 2021, I enjoyed it that much!