International Students! These 5 resources by Cardiff Uni will make your freshers' week smoother
31 August 2022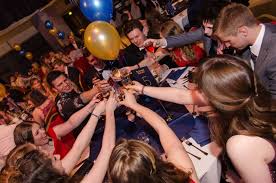 Freshers' Week as a new student is full of excitement and adrenaline rushes but the anticipation of starting your uni journey can be nerve-wrecking, especially if you are international student trying to figure 10 things at once in a new country. But Cardiff University is amazing at providing support through a wide range of resources for its students — that will not only help you settle in smoothly but also allow you to actually enjoy the week stress-free.
I've gathered 5 resources that helped a lot during my first week at university, and also well after I had settled into university life. Remember that these are set up FOR YOU and to help YOU make an easy transition into university life. So, definitely use them whenever and however many times you need to!
1—New Students' Checklist: The University website has an incredibly, detailed, and super helpful guide for new students that you can access here. This resource covers a wide range of topics that will answer most general concerns and redirect you to the means to resolve more specific ones. But of all the webpages on there, my favourite is the New Students' Checklist — an extensive list of essential and advisable tasks you would need to complete in order to ensure a smooth start to your degree.
This list especially helpful for international students as it will take some burden off planning and sorting yourself in a new space. You can easily download it and check things off without having to worry if you've missed something.
2—Student Mentors: The Student Mentor scheme is set up so new students can meet existing students (virtually or in-person) to have informal chats about their experiences, any questions or concerns. These meetings would be planned to walk you through everything Cardiff has to offer but are really informal so a great place to make new friends from different courses.
A lot of students never join the scheme or leave it pretty soon after they do but trust me it is worth your time. Mentors are trained to help you settle in but since they are pretty much your age, it is a great place to ask questions and explore life in Cardiff. So, whenever you get the email about your Mentor-Mentee group, sign yourself up and make use of it!
3—Student Connect and Students' Union: The Student Connect service is your one-stop to get answers to any and every question you might have. They are available online through the Student Intranet (maybe browse the intranet a bit because you are going to be using it a lot) and also in-person at the Centre for Student Life. From everyday stuff like academic support to big things like visas, money, and housing, they will help you sort a lot out.
Additionally, the Students' Union too has a plethora of resources to help you both online and in-person. Their extensive guides on housing, money management, etc. and events for new students are a great way to settle into university life. These resources are especially designed keeping the students' needs in mind so don't hesitate while reaching out to the teams that run them, they are really helpful and friendly!
4—Residence Life Team: This amazing student team is here to help you settle into university accommodation. They hold so many events every week for new and existing students to meet with each other and form a community within the halls. You will see them around on moving day too.
Also, they run both online and in-person events and you can request an online or in-person appointment with a member of staff to discuss any issues you may have while living in halls.
So, stop and have a chat with them around your halls, and follow them on Instagram to stay up to date about their events. Oh also, you can join the team yourself after first year so maybe keep an eye on the applications next year (you'll get free accommodation too).
5—School Induction Events: You'll surely be attending the fun school events, you know the ones where you play games and get free goodies but believe me when I tell you that the boring ones will help make use of the resources university offers.
Library talks will teach you how to operate your account and how to access the libraries. Employability talks will put you ahead of the curve so you can plan you three years strategically. And other such talks will give you info about what help the university offers for different situations (yeah, there are whole departments for health and wellbeing, jobs, and more) and how you can access it. So don't skip these amidst the fancy freshers' events and you will thank yourself after the week is over!
I wish you have a safe journey and a smooth experience settling in. I hope these tips help you through the experience!
Stay tuned for more blogs. You can also reach out for comments/questions here.
Kasvi :))