How to make the most of your personal tutor at university
23 May 2022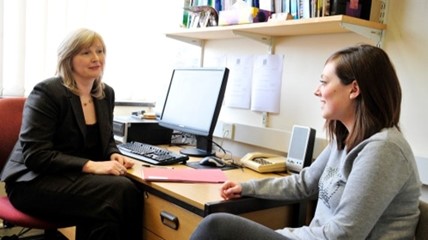 During your time studying at Cardiff University, you will be assigned at least one personal tutor to assist you in your studies and your general wellbeing as a student. Though they are sometimes not the specific person who can solve your problems, they are an excellent first point of call who can direct you to other staff who specialise in tackling your issue. In most cases they can advise or address problems alone however, and whether it be in one-on-one sessions or as part of a group, you should try and make the most of the time you have with your personal tutor due to their invaluable experience handling students' queries.
Queries you may have about exams and assessments are likely the most common questions personal tutors get asked, and as such they are experts in assisting you with this, not least because in many cases they helped to design the assessments in the first place. They know how to structure essays and exam answers exactly how the examiner would want, whether that be over whole essay plans or for short paragraph answers. When you receive this feedback, just like with assessment guidance given to you by your lecturers, do not simply copy exactly what they guided you to do, but rather think between the lines and evolve those ideas to elaborate the rough structure with your own intuitions. This will give your work its own character and will help it stand out amongst the dozens of other answers, facilitating you to achieve the top potential marks.
Meetings usually occur throughout the year, varying by course and school, however in my personal experience I have had one per semester, so three each year. Whilst in the School of History, Archaeology and Religion, my personal tutor meetings were focussed on my development, both academically and in terms of employable skills. Now in my postgraduate year, my meetings have focussed more on what I career paths I could pursue following my graduation. You can request meetings outside of your scheduled ones if you have specific questions about your course, and sometimes these can be answered in an email, with other queries needing prolonged discussion. If you have mental health worries or other external difficulties and are not sure what to do, you personal tutor will be able to point you to someone who can help, and it is highly advised that you let the university know if you are struggling particularly badly, as they will then be able to grant you extenuating circumstances, prolonging your deadlines and taking the academic stress off you for a while.
Placements, years out in industry, and even advise on deferring a year or switching courses, is all within the scope of what personal tutors can help with. They will almost always have experience in knowing which placements are the most valuable for you to do, and will be knowledgeable about other similar courses that you may feel would be better suited to you upon arriving at university. Since many students decide to switch courses upon realising what studying at university is like, tutors are excellent at talking you through the available options before making any hurried decisions. In general, they are a great resource to make the most of when you have questions both academic in nature and about university life as a whole, and over time you can even form good friendships with them.