Highlighting Places in Wales I've Visited – International Student's POV – Part 4
6 March 2023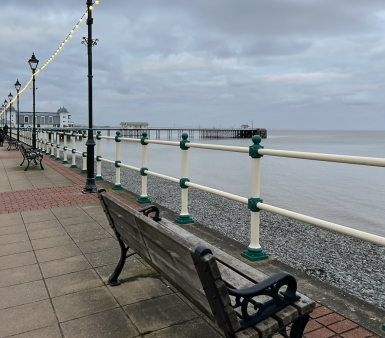 Penarth
Adding to places I've visited in Wales, part 4 consists of the lovely Penarth, located next to Cardiff Bay. With the rocky beaches that line the pier, you can find yourself walking for hours, drifting further and further down the coast line. My whole intention when coming to Penarth was to take a book to read and clear my head, allowing the air and the sound of the waves to relax me. However, I caught myself exploring this town that is breath-taking.
City exploration
As I exited Penarth train station, I got turned around a bit. I ended up walking the opposite way of where I had intended to go. Instead of making my way toward the pier, I explored the town. I passed by loads of bakeries, cafes, and some beauty shops. As I made the loop from Victoria Road down Stanwell Road, back Victoria Avenue, I stumbled upon Victoria Square.  The beautiful park surrounded All Saints Church. As I peeked into the Lesser Hall of the church, I saw girls practicing for what I assumed was a dance number. I continued my walk around the square but eventually made my way back towards the pier. As I kept walking, I'd pass families with young children, or teenagers conversing. This town already gave me a feel of a real seaside town. There was so much charm and beauty here.
I took a path in Alexandra Park to get to the pier and I don't think I've experienced such a gorgeous green space. It had just rained a bit that day so the mist mixed with the fresh dew in the air put even more life into the park. I crossed the Dolly Steps, exploring more of what the park offered. As I passed by park shelters, flower beds, and a slight stream, I could truly see just how incredible this place is to escape on a nice walk during the day. I could have just as easily parked myself on a bench and read for hours here.

The pier was the true site I came to see that day. All I had intended was to sit on a bench on the pier and read. But of course I had to grab a hot chocolate before that. Decks Takeaway was the cutest spot on the pier. Nestled like a shack on the pier, they offered the best mixed menu, perfect for being near the water. I felt like a kid again ordering a hot chocolate and debating whether to try ice cream instead. After I ordered, kids were running up with their coins waiting so patiently to order. This place truly made me feel like I was a kid again.
After grabbing my hot chocolate, I decided upon one of many benches available to me. For a while I watched children run on the coastline, getting just close enough to the water to touch it. Dogs would sniff their way along. I eventually grabbed my book and just let the sound of the water send me off into my happy place.
Walking the coast line
After hours of reading, I had finished my book and decided it was time to explore the area closer to the water. Right off the pier, steps lead down to the rocky coast. Once I hit the beach area, I let the time pass and I just walked. Between rocks I'd find sea shells that I ended up collecting and taking with me. The rocks made it a little hard to walk on but I got the hang of it after a while. I'd passed by many children with families, dogs with their owners. The calm that this place takes you to is unreal. The simplicity of a sea town can bring peace in an instant.
As I made my way back towards the pier, I looked up at the street side at the strip of shops. Coffi Co, Casa de Margarita, Shore gift shop, Beachcliff Fish and Chips, and Penarth's Seafront Accommodation. The vibrant colours of these shops added to the seaside feel of the place.
Eventually my time at Penarth had come to an end. I walked my way back through Alexandra Park towards the station. Penarth left me with a feeling of serenity. Though the places I visited aren't the top on vacation spots, they all have their own charms that leave you feeling like there is so much to explore. Visit Penarth, discover this feeling yourself.
Have fun exploring,
Lilly <3