Highlighting Places in Wales I've Visited – International Student's POV – Part 3
6 March 2023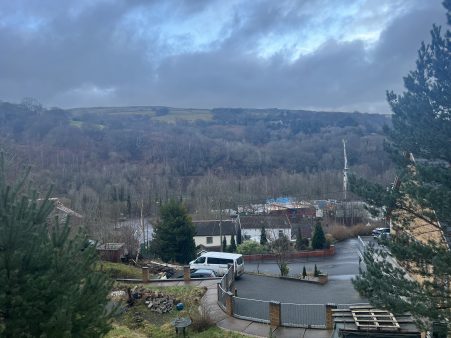 Trehafod
Hello and welcome back to the series 'Highlighting Places in Wales I've Visited.' Today I will recount my time in Trehafod, a very small community sitting between Pontypridd and Porth. I'll admit, my opinion of this place is possibly skewed based on the opportunity I received to go here. I didn't really know where Trehafod was before this trip and I hadn't really heard of it. Yet, I was offered the opportunity to stay in Trehafod for a day and go stargazing up in the mountains. So, I took it.
Back home, my father's side of the family lives in more of the country side. So when I arrived at Trehafod station, I felt almost at peace. Seeing the open area of greenery and the quaint community reminded me, in a way, of home.  I know not everyone enjoys the more country mountain aspect, but for me, this felt like a breath of fresh air, and it truly was.  This opportunity I was given was gifted by the organisation Study UK. As an international student, Study UK gave me the opportunity to see more of what Wales has to offer. So myself and two others also with the program set off into Trehafod to explore the area.
Our first stop was to drop off our bags at the hotel. What I didn't realise was just how beautiful the walk to the hotel would be. As we made our way from Trehafod station to the Heritage Park Hotel, we crossed the Rhondda River. The view from the bridge looking over the river and into the mountains was breathtaking. I was speechless. As we continued our walk, you instantly felt the aspect of a small community. Children were playing at a park across the street. Families were walking their dogs. It was a community town.
After passing by beautiful homes and one-stop shops, we came across the Rhondda Heritage Park. We were supposed to go stargazing in the mountains with this company, however with the weather and it being too cloudy, we weren't going to be able to see stars. But, Rhondda Heritage Park offers stargazing as well as coal-mining tours. History is rich with Rhondda Heritage Park. Coal from here even powered the Titanic. I'd highly recommend going and experiencing that history as its felt worldwide. The mountains are also beautiful in Trehafod. Stargazing is an amazing way to feel connected and grounded with more than just the world we live in. I'd go back to Rhondda Heritage Park to try both of these experiences.
As we made our way past the coal mine, we reach the Heritage Park Hotel and I can not rave about a hotel more. We were greeted with the kindest people, the rooms were amazing, and the whole facility was magnificent. Though our time spent at this place was short, in all aspects I was pleased. We spent our dinner at the hotel, with gorgeous wood lining the dining area, creating a cabin in the woods feel for guests.  The food was also to die for. The menu offered Welsh dishes like Caerphilly chicken and Welsh lamb shanks and I was excited to try more food from the UK. Being an international student, I had yet to try classic foods as simple as sticky toffee pudding. Even if you don't stay at the hotel as a guest, I highly recommend going for a dinner here.
One thing that I discussed with the girls I was with was that Trehafod is probably not a common vacation spot by any means. But it was fun trying to guess why people were staying at the hotel. What were their stories. Majority of them were probably just passing through but that's the joy of this place, most of these people stories are going down different paths yet we were all in the same place at this time.
Mountain Hiking
After dinner we took a hike up into the mountain area, passing by the houses that created the community we stayed in. Something that really stuck with me was when we ran into a tiny convenience store in the middle of the residential area. It was such a cute, quaint little place. Kids were running in and out, everyone knew everyone. The girl working the counter was the sweetest and that's one thing that I find amazing about this place and Wales in general. Everyone from here is so kind and friendly.
After stopping in the store, we continued our hike up into the mountain area, stopping to greet chickens and take in the view of where we were at. It seems so simple but I can emphasise enough, if you ever come to visit this part of Wales, it really makes you stop and slow down a bit. Take in the people and place around you.
Though our trip to Trehafod was short, I can not recommend enough stopping to visit these quaint places. You may not think they have much to offer, but I can guarantee they will prove you wrong.
Have fun exploring,
Lilly <3