Heath Park Campus
4 December 2020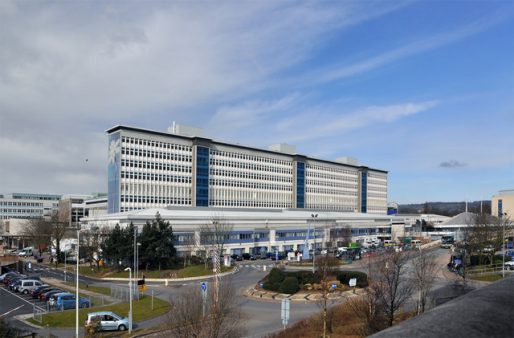 I can remember when I started university and it was like a maze, it took me a few weeks to learn where everything was. Due to COVID-19 and people having more online lectures, going into campus and working out where everything is will take a bit longer. I thought this blog would be helpful to learn about the buildings based at Heath Park campus.
Cochrane Building
I remember the Cochrane building as the big 'posh' one. It's a new building so it looks very posh and it's hard to miss it! This building is based next to Ty Dewi Sant, the big 'old ' building. The Cochrane building includes the library which is 3 floors all varying with the level of noise they expect to enable people to study (please check the rules around COVID-19 before going to the library to study). The library has self service machines to borrow and return books, computer access, printers, reception, vending machines, toilets, study rooms (which you can book out) and books on sale (I have got some fab bargains!).
Dental Hospital Building
The dental hospital has two lecture theatres that I have visited. The dental hospital building is in between the main building and the UHW car park. There is the dental hospital building entrance and then there is a separate entrance for the lecture theatres, you will see the sign on the building.
Main Hospital Building
The main hospital building is near the CMC Sports and Social club. The main hospital has a few entrances. The main entrances I have used as a student is the entrance into the concourse which is where all the shops are, and the entrance near the dental hospital which is quicker to get to the lecture theatres. The main hospital building includes a restaurant, lecture theatres and the concourse.
Michael Griffith Education Centre
The Michael Griffith building is next to the Ty Dewi Sant and Cochrane buildings. I have mainly been to one lecture theatre in this building which is a big lecture theatre, so is good for fitting a lot of students in at one time if needed.
Ty Dewi Sant
Ty Dewi Sant is a big 'old' building next to the Michael Griffith Education Centre. Definitely 'never judge a book by its cover' with this building. Ty Dewi Sant includes several lecture theatres and classrooms, it also includes great facilities like the Activities of Daily Living Suite.
These are all the buildings I use on my course. https://www.cardiff.ac.uk/visit/accessibility/heath-park-campus This link gives you more information about two more buildings that are available on the campus. This link also provides you with a more in depth description of where each of the buildings are located and it also gives you information about who to contact if you have any queries about car parking.
https://www.cardiff.ac.uk/visit/virtual-campus-tour This link is for the virtual campus tours. These are great to view to see what the different university buildings offer. Also in the likes of COVID-19 when prospective students aren't able to visit the university buildings, this is a fantastic opportunity!
I hope you have found this blog useful! If you have any questions about Cardiff or Cardiff University please feel free to message me using the UniBuddy service.