Colum Place Interview
20 September 2020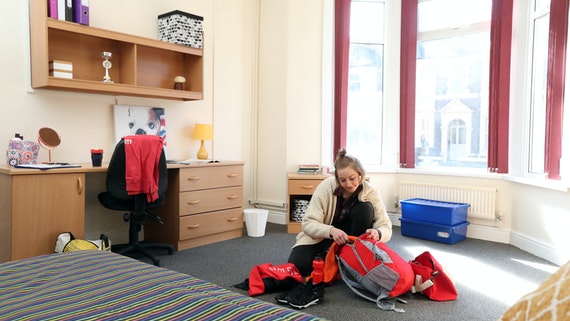 If you don't like the look of any of the halls of residences, there is always university owned houses! Colum place house is situated in between Talybont halls and the university campus meaning that you are close to the parties and also close to your lectures – oh and don't forget Fattoush take away, you will have more than these than you can even imagine. To find out more about what it was like to live in a house in first year, I spoke to Tamara.
What was your favourite thing about Colum place?  
My favourite thing about Colum Place was the privacy that comes with living in a terraced house, as it was a quiet cul-de-sac, there were rarely any noise complaints that can sometimes come with living in an accommodation block. I never had any problems getting work done due to noise or disruption which was what I had wanted.  
 What was something you wish you had been told before you moved in?  
 That they were single beds! All the rooms were large enough to fit a double bed, but I understand that would have been unfair as people pay more to have a double room from the accommodation choices from what I remember. Another point was that I wasn't expecting the other students in the house to be my age or slightly older, maybe Cardiff Accommodation does that on purpose but it worked out great for me! as all the other housemates were around the same age as me I never had to worry about messy kitchens or that kind of thing that sometimes comes with people who have never lived on their own before.  
If you could pick accommodation again, where would you pick (not to be with friends, but singularly about the accommodation)?   
I was happy with Colum Place because I was slightly older and had been to university prior, the socialising aspect of living in an accommodation block wasn't a priority for me personally. Although accommodation blocks like at Taly are great for making friends when you first come to university. I did end up making a lot of friends which lived in Taly so it was great I could just walk 10 minutes to go see them for social events but know I could come home to my quiet house/street in the evening. 
Which shop did you mainly use?  
The petrol station shop on North Road if it was just one thing I needed, otherwise the LIDL or the Tesco Express further up. 
How did you socialise within the accommodation?  
I would socialise with my flat mates around dinner or occasionally going to the pub but I was closer to the friends I had made which lived in Taly so I would usually go see them or go somewhere in town with them.  
What were three key points about the house? 
 Quiet, great location and I liked that the people I lived with were slightly older than the average age in student accommodation.   The amenities were fine, good location very close to my business buildings where I had many my lectures. The Maindy Centre was 15minutes from me and shops were around the same.