Cardiff Student Heroes: Rifhat Qureshi
5 April 2021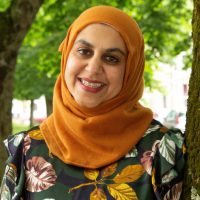 Modest Trends founder and MSc Business Strategy and Entrepreneurship student at Cardiff University, Rifhat Qureshi, is the entrepreneur who is helping tackle issues around sustainability in the modest clothing industry.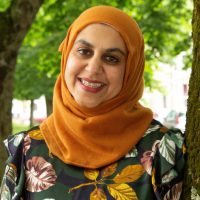 Originally from Cardiff, Rifhat started her business back in 2016 to address a distinct lack of fashionably diverse modest clothes made available to Muslim women, with often simple black abayas being the only option.
While noticing this gap in the market, her motivation for launching the brand primarily originated from her own need as she explained: "I am somebody who enjoys fashion, but every time I looked around, I found that it was difficult to find something that suited my needs."
As well as styles of modest clothing being limited, the industry also leans into a fast fashion model with items often not being made sustainably due to mass production and an unregulated market expansion.
While modest clothing uses more fabric than other trends, Rifhat felt there was an overwhelming need for a brand that not only reduces fashion waste but is socially conscious and gives back.
With this, Modest Trends was born.
Opening opportunities
After opening her shop in 2019 which later closed and moved online due to the Covid-19 pandemic, Rifhat decided to fulfil her dream of undertaking a masters at Cardiff to help propel her business further.
Beginning her MSc in Business Strategy and Entrepreneurship in 2020, Rifhat affirms that through the course, and with Cardiff's support, she has been able to cultivate crucial networks and obtain necessary skills that will develop Modest Trends.
"I think the course is giving me confidence and a much clearer understanding of some of the fundamentals of what's needed for business growth and development beyond a small business," she said.
"It's opened up opportunities for networking too. Within some of our modules, we've been introduced to a couple of different business owners who've been really inspiring and useful in giving methods and opportunities to connect with them."
In addition to her degree, Rifhat has also recently joined the Aspect Student Accelerator Programme (ASAP) which is tailored specifically towards driving social change through entrepreneurship via mentoring, networking and fortnightly bootcamp sessions.
For Rifhat, the programme could not have come at a better time as upon the closure of her shop, she was unsure of where to go next with the business. Being part of the programme not only refocused her mind but helped re-strategise her entire brand.
"I wasn't really 100% sure if I should even carry on with the business, but then this opportunity to be part of the Aspect Accelerator programme really got me focused and thinking again about how I can still develop my business online. It helped me to find exactly what I want to do with regards to the strategy and how I go forward with it," she explained.
Even within the last six months, Modest Trends has evolved to become a business with a highly socially conscious ethos, focused on giving back to those in need.
While having "so many issues I wanted to solve", Rifhat is committed to developing her brand as a social business and is looking to launch her initiative, Hijabs that Help, in the coming months.
Taking Oxford Street
Following the opportunities afforded to her at Cardiff, the fashion entrepreneur has an exciting upcoming venture to showcase her new capsule collection at a pop-up shop on Oxford Street.
The four-day exhibition which will take place in May will see the launch of Hijabs that Help, made possible with the help of organisation ACF.
"I partnered with an organisation called ACF that provides micro and interest-free loans for female entrepreneurs who want to become business owners. So it's helping them to get their businesses started," she said.
"That's something I'm passionate about and is the reason why I wanted to start my business as well, to be able to give back in that way, not just like, here's some great products to buy, but actually give back to another organization that will help these women."
With the future looking bright for Rifhat, for those thinking of entering the world of fashion entrepreneurship, she has some valuable words of advice to hand:
"Firstly, start. Don't wait, don't plan, don't think, because you'll talk yourself out of it. Just start with one tiny little step, whether that be coming along to workshops where you might talk to like-minded people, or just simply watching webinars."
While cracking the world of fashion is no easy feat, ultimately, Rifhat says patience is the best virtue.
"Just accept that it's going to take time and that it is going to be hard work. But as long as you're working slowly through it, and are patient, you'll get there," she affirmed.