Modest Trends making global impact
22 February 2021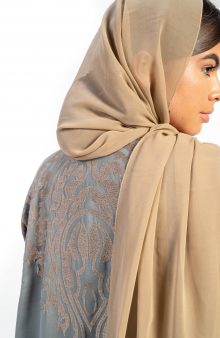 Rifhat Qureshi's (BSc 1999, Business Strategy and Entrepreneurship 2020-) business Modest trends is bringing diverse, sustainable clothing to women who dress to suit their spirituality as well as their style. Here, she tells us about her mission to empower others to become enterprising citizens whilst ensuring ethical and sustainable practices are adopted.
"The term 'modest fashion' refers to a movement favouring clothes that cover, linked to Muslim women, for whom covering certain areas of the body is fundamental to their beliefs. The term, and the clothes it describes are now part of a rapidly expanding market spurred by the growing need for representation by Muslim women. Evidence also suggests the #MeToo Movement has played an integral role in the shift as women dress for themselves and not just to appease society.
I founded Modest Trends in 2019, having seen so many brands rush to market with cheap garments, mass-produced by underpaid workers, which soon end up in landfill. The unregulated market expansion has meant environmental and ethical concerns have not kept pace and much of the modest fashion available is fast fashion.
The business case for modest fashion is clear, Muslim women reportedly spend two and a half times more on fashion and cosmetics than non-Muslim women, but profit has never been my primary interest. Using focus groups, I am trying to help educate the market on the shortcomings of fast fashion, addressing ethical concerns surrounding manufacture by developing plans for a transparent supply chain.
I hope to make use of cutting-edge innovation to integrate clothing labels into my 'capsule collection' that can be scanned to reveal a garment's source. Currently, much of my stock is sourced from ethical manufacturers from the United Arab Emirates, Turkey and Pakistan but I am working increasingly with suppliers and designers closer to home to limit the carbon footprint of the business.
I am also looking at ways in which design can limit fashion waste. By definition, modest fashion uses more fabric than other trends. If I can reduce the amount women need to buy through efficient design, then ultimately less is going to end up in landfill.
As well as my focus on ethical and environmental practices, empowering others to become enterprising citizens is an underlying principle that guides me and my business.
Bras for Everyone is a social initiative that hopes to meet the needs of women in remote parts of the world. In much of Pakistan and Bangladesh, underwear is an inaccessible luxury. We are helping by drawing on supplier networks to help women in these regions set up small underwear outlets. For women, run by women, the outlets will provide a space for women to try on bras and shop with dignity, in turn giving the women who run them employment and a sustainable business model.
The Covid pandemic has had a significant impact on the UK retail market and we were forced to close our first shop and move online. However, while I was working as an Enterprise Officer at Cardiff University, I became aware of the Aspect Student Accelerator Programme (ASAP). Being part of a group of peer founders has really helped boost my confidence at a time when I felt like giving up.
Combined with my current master's classes, fireside chats and mentorship, I began to realise that my ambition to provide a world-leading ethical modest fashion brand was well within my reach.
I am currently preparing for my first funding round, which I will use to develop a team and to move forward with the 'capsule collection'. I am also working with UK-based 'tech pack' designers, pattern cutters and manufacturers, before sourcing overseas."
My aim is that Modest Trends becomes an industry leader and in doing so influences others entering the market to do so conscientiously."
Rifhat Qureshi, Founder and CEO, Modest Trends
---
Comments