Investing in post-pandemic recovery
19 February 2021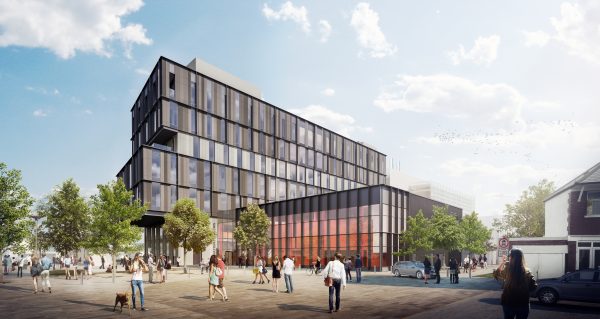 Cardiff's Innovation Campus will be a magnet for post-pandemic recovery.
Social science researchers, entrepreneurs, business leaders, professional advisers, academics and students will eventually create, test and incubate new initiatives and nurture partnerships in the sbarc | spark building.
It will be home to SPARK – the world's first Social Science Research Park – where specialists from ten groups will develop innovative solutions to societal problems through collaborative research activity.
They will share the building with Cardiffinnovations@sbarc  – a centre where student entrepreneurs, spinouts and start-ups will flourish.
Next door, two leading scientific research teams – the Institute for Compound Semiconductors and Cardiff Catalysis Institute – will turn research into world-leading products and processes in a bespoke Translational Research Hub.
The investment itself is creating social and economic benefits for South Wales, highlighted in the graphic below.
More than 400 people are currently working on the site, which has produced more than 1,200 weeks of apprenticeship work, generated local supply chain value estimated at more than £43m, and delivered two-thirds of the jobs created to local workers.
Cardiff University has a distinguished track record for creating start-ups, spinouts and partnerships that generate outstanding social and economic value.
sbarc | spark is due to open in September.
If would like to know more about opportunities in the new building, drop us a line…
HomeofInnovation@cardiff.ac.uk
You can read more here: https://campaigns.cardiff.ac.uk/innovation-campus