Building a Sustainable Future: Exploring the MSC in Sustainable Mega Buildings at Cardiff University
28 September 2023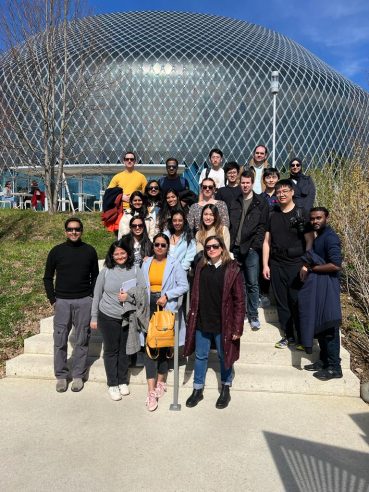 In a world grappling with the challenges of climate change and resource scarcity, sustainable architecture has become more than just a buzzword; it's a necessity. Sustainable mega buildings are at the forefront of this movement, offering innovative solutions to reduce environmental impact and create healthier, more liveable spaces. One institution that stands out in the field of sustainable architecture education is Cardiff University, with its MSc in Sustainable Mega Buildings programme.
Cardiff University, located in the vibrant capital of Wales, is renowned for its commitment to sustainability and innovative research. The program embodies these principles, offering a unique blend of theoretical knowledge and practical skills that are critical for success in the field of sustainable architecture.
Comprehensive Curriculum: The programme is designed to equip students with a deep understanding of sustainable building design, construction, and management. It covers a wide range of topics, from energy-efficient building systems to sustainable materials and carbon quantifications.
Renowned Faculty: Cardiff University boasts a faculty of experts with extensive experience in sustainable architecture. Students have the opportunity to learn from thought leaders in the field, gaining valuable insights and mentorship.
Research Opportunities: The university's commitment to cutting-edge research means that students can engage in impactful projects that address real-world sustainability challenges. This hands-on experience sets Cardiff apart from other institutions.
Key Highlights of the MSc in Sustainable Mega Buildings
Interdisciplinary Approach: Sustainable mega buildings require a holistic understanding of various disciplines, including architecture, engineering, and environmental science. Cardiff's programme emphasizes interdisciplinary collaboration, giving students a well-rounded education.
Green Building Certification: Students learn about the various green building certification systems, such as LEED and BREEAM, and gain the skills needed to design buildings that meet these standards. This knowledge is highly sought after in the industry.
Site Visits and Fieldwork: Cardiff's location offers easy access to a wide range of sustainable building projects. Students often participate in site visits and fieldwork, gaining practical experience and insights into sustainable design and construction.
Networking Opportunities: Cardiff University's strong ties to the industry mean that students have ample opportunities to network with professionals, attend conferences, and collaborate on industry-related projects.
Career Prospects
Graduates of the MSC in Sustainable Mega Buildings programme at Cardiff University are well-positioned to embark on rewarding careers in sustainable architecture and urban planning. Here are some potential career paths:
Building Physics Engineer: Graduates can work as building physics engineer, creating environmentally friendly and energy-efficient building designs for both residential and commercial projects.
Sustainability Consultant: Many organisations seek experts to assess and improve their environmental performance. Graduates can work as sustainability consultants, helping businesses and governments meet their sustainability goals.
The MSC in Sustainable Mega Buildings programme at Cardiff University offers a dynamic and comprehensive education that prepares students to tackle the challenges of creating sustainable cities for the future. With a strong emphasis on interdisciplinary learning, practical experience, and a commitment to sustainability, this programme equips graduates with the knowledge and skills needed to make a positive impact in the world of sustainable architecture. If you aspire to be a part of the solution to our planet's environmental challenges, Cardiff University's programme could be your gateway to a rewarding career in sustainable mega buildings.