An insider's POV working at a Cardiff University open day
11 July 2022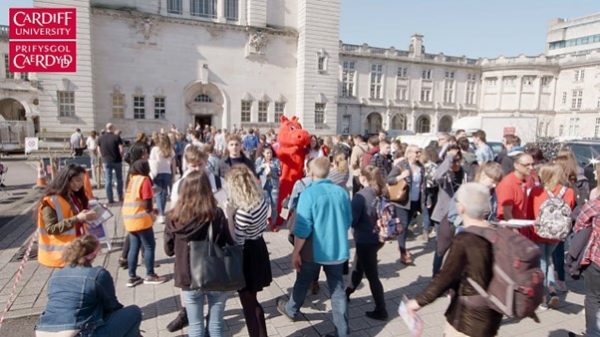 University open days are the perfect place to get a well-rounded view of both the feel of the city and the university as a whole. Praying for sunny weather, the host university will put on its metaphorical best clothes, and try and impress the prospective candidates, a practice that every establishment will partake in. With this being a well-known fact amongst those attending the open day, many potential students, friends and family members often enjoy interviewing current students on their opinions and experiences living in Cardiff, in this instance. That is where myself and dozens of other student ambassadors enter the fray, working across the university to carry out tours, guide and signpost our guests, and to be encyclopaedias for information about Cardiff University. My role in the past couple of open days that occurred on the 1st and 2nd July was to be the latter, working at an information stool in the foyer of our newest building, the Centre for Student Life.
Whilst undertaking this position, I realised that there were many questions that were frequently asked, and whilst many of them involved toilets and where a particular lecture theatre was, there were several which I thought I could share and discuss here, for those who were not able to make those open days and have a chat. A quick disclaimer, it is best to hear the opinions of several different students here at Cardiff as we will likely have had very varied experiences in some things and greater correlation in others.
"What is the city like for students?"
The university is located within the city, rather than being on its own campus, however due to the clustered nature of the university buildings and Cathays housing area, there is a quite clearly defined student area just 5 minutes from the city centre, facilitating any trips into town to experience what the Welsh capital has to offer whilst still having a predominantly student area to live and work in.
"How should I choose my accommodation?"
Look at all the options, whether you would like en suite/shared bathrooms and part catered/self-catered. These factors alongside the location of your halls should help you narrow down your preferences, but be sure to check out the university's accommodation web pages for more information on each hall.
"Is there much support for mental health and/or disability services?"
The Centre for Student Life has recently been constructed to house most of our support services, with professional, friendly staff to help you with whatever you may need. There is much more information accessible online, again through the university's website.
"Is there much of a social life?"
With just as many ex-students as prospective students asking me about the Student's Union club, I was happy to inform them that there are a plethora of options for socialising with fellow students at Cardiff. From Y Plas, the SU club, to the opportunities in town, Cardiff has a wide range of both alcoholic and non-alcoholic entertainment venues and so you will be sure to find places and activities that you enjoy.
And finally: "Why would you recommend Cardiff University?"
This question is so difficult to answer concisely, however for me, Cardiff is a friendly city with a huge range of experiences within walking distance, from sport to music to the nightlife. Academically, I have enjoyed both courses that I have studied in a supportive and studious environment, however since many universities will offer this too, I would rather highlight the range of societies and opportunities that I have enjoyed whilst participating in things such as the university music ensembles. Cardiff has not only given me qualifications but has also made me a more well-rounded person with memories from here that I won't forget in a hurry.