An experience of going on tour with Cardiff University Brass Band
30 May 2022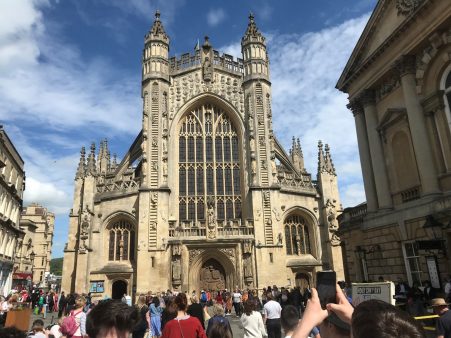 Should you join any sporting or musical societies during your time studying at Cardiff University, then you may well get the opportunity to play away from home, on a trip outside of Cardiff. In this case, I was lucky enough to be able to go and perform in Bath Abbey, with the student-run brass band. This being our last concert of the year, it was a special experience to be able to play in a building of such grandeur and scale, with an acoustic that left the music ringing in the air for several seconds after you'd finished playing. Though this blog will obviously focus on the aspects of this trip, there are many takeaways that apply to any student-run trip that you might partake in whilst at university.
The Abbey itself was beautiful, with our concert being in the main hall, whilst we stashed our bags in the underground rooms that were like a modernized version of the catacombs of the Red Keep from Game of Thrones. Bath being a bustling tourist location, most of the audience was simply wandering around the abbey, (hopefully) enjoying the music and architecture alike, whilst some friends and family of band players came and sat to watch the performance. We performed a section of classic brass band repertoire, medleys of musicals, and "Mae Hen Wlad Fy Nhadau", spreading a little Welsh culture whilst in a rugby rival's territory. Talking of rugby, one of Bath's final rugby matches of the season was one whilst we were there for our visit, making the city even more busy, with lots of blue, black and white jerseys.
The city itself was very aesthetically pleasing, with winding alleys, a lovely view of the river, and amazing scenery in places such as "The Royal Crescent". We spent most of the day mooching around the city, exploring and finding wonderful little bakeries and book shops. For any of you who watch "Bridgerton", Bath is the home for much of the settings for shoots in the show, and so there were some oddly familiar sites. There were also many other musicians busking, in what seemed to be an extremely organised rota around the city, with singers, trumpeters and barber shop quartets all making an appearance throughout our time wandering around.
The social aspect of any society trip in huge, since we could easily have performed briefly and then run home back to Cardiff, instead we spent around 10 hours in the city, ending up by having lots of pizza as part of a group meal in what we think was an old train station. We also ran a walking bus tour around the city, through which those of us who weren't locals could learn a little about the sites. Overall, the trip was a great day out, with the social element being just as enjoyable as the musical aspects, though I will always love playing in cathedral-like buildings due to the echo that made the whole band grin upon finishing a piece.