CS research for better health
25 September 2023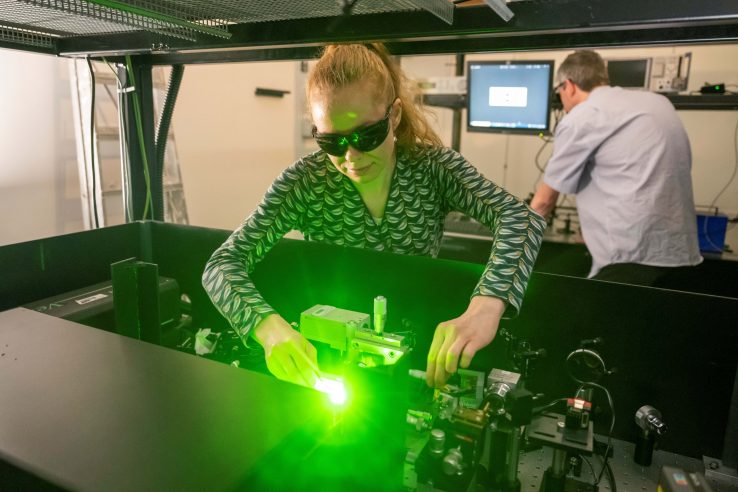 Tiny electronic chips called compound semiconductors offer endless possibilities in tomorrow's world, from more efficient lighting, heating and transport to more effective healthcare diagnosis. At this year's launch of Cardiff University's Translational Research Hub (TRH), academics explained how their work with industry aims to develop solutions to society's grand challenges.
In this blog, we summarise speeches from two School of Engineering researchers who are pushing the boundaries of CS research: ​​Professor Khaled Elgaid, an expert in ultrafast monolithic Semiconductors for energy efficient​ telecommunication, radar and sensors applications, and Dr. Arathy Varghese, who works to apply CS technologies in personalised healthcare equipment that can detect disease.
Professor Khaled Elgaid
"I work in transistors, which are the main component for transmitter-receivers, so they're in every mobile, they're in every house. I was introduced to transistors in the US, when I did my MSc at Cincinnati University, then moved to Glasgow in '93 to do a PhD, and worked in transistors under the supervision of Steve Pullman.
What is a compound semiconductor, from our perspective? It is basically manipulating electronic materials as very thin wafers, then fabricating on them very complex structures at nanometre scale. These structures go up about 27 levels: it's just like constructing a building, but laying down 27 storeys with nanometre accuracy, so it is very complex process.
What does it take to do that? It takes a critical mass of diversity and knowledge: we need the upfront materials, we need the fabricators; we need the people who design; the people who test and do modelling; and then our findings go back into the cycle to refine again and again. It is a very dynamic process. It's not stationary, it moves all the time as new technology comes in and if you fall behind, then it is project over!
So, we work day and night. It is what wakes us up in the morning, the sheer challenge of it. Continuity is very important: if someone moves out of a group, then a project could collapse, so it's very competitive, but very rewarding.
In the past, we'd always talk about performance being the most important thing – we need more data, we need higher speed transistors, etc, But soon, as you may know, something like 100bn devices will be connected, and that's a lot of energy. If you have 4G, you have 10 megabits a second, but when you move to 5G you use 10 gigabits a second and that's an energy increase of 70%, so recently all research has been focused on reducing the energy consumed by transistors, which are very important.
Our work in the Centre for High Frequency Engineering consists of about 10 academics working together from wafer growth, through manufacturing, testing and modelling, and then reducing energy consumption, trying to meet Net Zero requirements. Thank you.
Dr. Varghese  ​
"I'm Arathy, and I work with the High Frequency Team in the School of Engineering. In addition to developing high frequency devices, we also work on biosensors.
We develop ultra-high sensitivity devices which are compound semiconductor-based and are capable of detecting biomarkers from body fluids – body fluids such as blood, saliva, sweat, etc, contain a large number of biomarkers, but the concentration is really minute, so it's impossible to detect these biomarkers, especially in the early stages of diseases such as cancer.
If we develop a highly sensitive device that's capable of early-stage detection, it can help us tackle disease. We have developed biosensors capable of doing this early-stage detection and we are trying to integrate them with wireless technologies so we can deliver them as personalised healthcare equipment, that can support in decentralised healthcare or remote healthcare. And in addition to biosensors, we are also capable of developing gas sensors, for hydrogen gas detection or carbon dioxide emission detecting.
And we can also develop Ph sensors. We focus more on biosensors because we believe they are most needed, and we have already tested them for cancer detection, and Covid detection, so we are pioneers in Covid detectors based on compound semiconductors.
We are working on integrating them with wireless technology and making personalised healthcare equipment than can be used at home, so people will no have to go for screening to healthcare centres or clinics but can stay in the comfort of their homes.
We have seen demand for such sensors increase since the pandemic, and we are looking forward to pushing the boundaries of sensing technologies with the TRH facilities available here in order to develop very efficient sensors that are going to bring us closer to a healthier and sustainable future. Thank you."
For more information about the Institute for Compound Semiconductors, visit our website, or watch our film, below, about the newly launched ICS Cleanroom 👇👇👇.
If you are interested in learning more about the work of the Net Zero Innovation Institute, our strategic areas and vision, as well as how you can contribute to Net Zero research at Cardiff University, visit our website at https://www.cardiff.ac.uk/net-zero-innovation-institute and follow us on Twitter – @CUNetZero.