Future CS leaders showcase skills at CS DUKEE
14 December 2022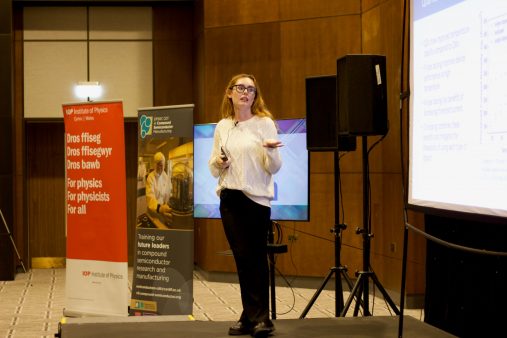 Tomorrow's leaders in Compound Semiconductor technologies are trained at Cardiff University. And their success has been on show at a recent student-led conference which brought high-level industry speakers alongside PhD researchers from Cardiff's EPSRC Centre for Doctoral Training (CDT) in Compound Semiconductor Manufacturing.
Each year the students in the first year of their Compound Semiconductor Manufacturing PhD are set the task of organising a conference. This year's event, in central Cardiff, named CS DUKEE (Compound Semiconductors Driving UK and European Excellence), gave Cohort 3 students the chance to exercise their project management, time management, creativity and negotiation skills, and also allowed Cohort 2 (Year two PhD students) to showcase their own research in a series of slick and effective 15-minute presentations.
Student organisers attracted leading industry speakers to give keynote talks. Gerry Thurgood of Thermco Systems (who also generously sponsored the event) discussed the UK's Semiconductor Strategy, and Mr Enrico D'Angelo, Parkwalk Advisors, shared his knowledge of commercialization pathways for deep tech university spinouts, to give students a feel for how to grow their ideas once they graduate.
The day finished with a panel focussed on careers in the industry, featuring Caroline O'Brian, CEO of Kubos Semiconductors, whose world leading technology is transforming the future of LEDs, Sean Redmond, CEO of Silicon Catalyst UK, an incubator focussed on CS solutions, and Gerry Thurgood of Thermco Systems.
The panel shared amazing insights into how CSM students had potential to touch the lives of everyone in the world with their research. Students were encouraged to find a path to grow their value in the industry and not be afraid to spin out their research as compound semiconductors were now the most leverage commodity in the world, more so even than oil.
Students were told the best job is one you create yourself – and were urged to start their own companies. Gael Giusti, Marketing and Technology Analyst at Yole Intelligence, commended the students for their great organisation. He vowed to return next year when Cohort 4 are the organisers and Cohort 3 act as presenters.
CDT Project Manager Sarah Brasher said: "I was really delighted with the way the students organised the conference, demonstrating good problem-solving skills, project management and time management skills, communication skills (some students presented, others chaired panels or liaised with speakers and guests) and negotiating skills.
"All of them showed attributes which would make them even more valuable in a job market which is struggling to attract talent at the right level.
"We gave Cohort 3 a budget and let them run with it: they gathered sponsorship from the IoP, IoP Wales and ThermCo, hosting the conference in prestigious surroundings of the Parkgate Hotel, and they also attracted a world-beating panel of keynote speakers. I could not be more proud of their efforts and of our amazing student presenters."
CSM CDT Director, Professor Peter Smowton, praised all the students for their contributions in either organising or presenting at the conference and awarded prizes for Best Presentation to Richard Brown and Best poster to Rachel Clarke.
The CSM CDT is currently recruiting students to Cohort 5 of its fully-funded EPSRC four-year programme, which includes an integrated masters in compound semiconductor manufacture.
For more information about the EPSRC Centre for Doctoral Training (CDT) in Compound Semiconductor Manufacturing, email: semiconductors-cdt@cardiff.ac.uk  or visit How to apply – EPSRC Centre for Doctoral Training in Compound Semiconductor Manufacturing (cdt-compound-semiconductor.org) for details of the application process for October 2023 starts.