A catalyst for cyber innovation
7 June 2022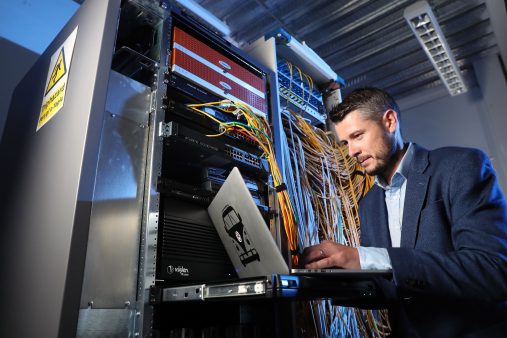 In development since 2019, the newly proposed Cyber Innovation Hub (CIH) will act as a catalyst for transformation and growth for the Cybersecurity industry in Wales. As Professor Pete Burnap explains, it aims to realise the region's full potential by combining access to world-class technical testbed facilities with Cybersecurity capability, benefitting current and future Cardiff Capital Region City Deal (CCR) clusters.
"The CIH proposal has attracted a £6m co-investment from Welsh Government and the CCR with further funding being made available to develop the partnership with collaborators including Airbus, Alacrity Cyber, CGI, Thales NDEC, Tramshed Tech, and the University of South Wales. However, in time, the Hub will transition to a sustainable, standalone organization.
"The investment comes at a crucial time. Cardiff Capital Region identified Cybersecurity as one of the five priority clusters in the region, and a recent report from the Department for Culture, Media, and Sport (DCMS) indicated that without support, the opportunity for growth would be lost and the region would lag others in the UK.
"The Hub aims to boost the number of cyber security businesses locating and developing in Southeast Wales and enhance cybersecurity skills to widen and diversify the cybersecurity talent pool. We hope to have upskilled 1,750 individuals with cyber expertise by 2030, building on successful skills in schools activity conducted by Cardiff University, the University of South Wales (USW)and The National Digital Exploitation Centre (NDEC).
"In addition, we hope to develop a mix of Continuing Professional Development (CPD) programmes in partnership with Higher Education Institutes (HEI) and Further Education (FE) providers. These programmes would cater to existing cyber security professionals, recent graduates, and those looking to reskill into the sector, in turn generating £3m in CPD income.
"As a professor of data science and cybersecurity in the School of Computer Science and Informatics, I have been able to develop the CIH proposal thanks to a track record in the development of world class cybersecurity research and its translation into commercial products.
"The CIH will further bring together industry partners with Cardiff University's world leading academic expertise in Cybersecurity to focus on market-driven challenges and the development of new, novel solutions and commercial products."
To find out more about the Hub and its work, contact CIH Director Professor Pete Burnap (burnapp@cardiff.ac.uk) or visit the Centre for Cyber Security Research.