Cardiff Catalysis Institute guides leading research
4 May 2022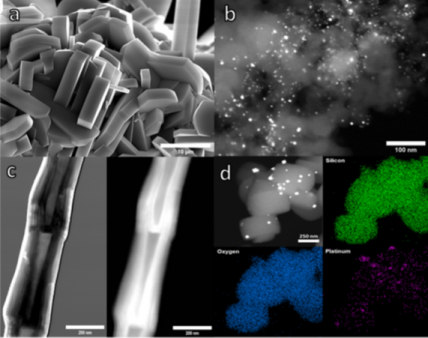 With the state-of-the-art microscopy and surface science wing at the new Translational Research Hub (TRH) due to open imminently, two Cardiff Catalysis Institute (CCI) researchers and their co-authors in Canada have recently published a review on scanning electron microscopy (SEM), aiming to better inform end-users to achieve boundary-pushing research.
The review forms part of a larger series on the fundamental aspects and techniques commonly used in laboratories across the globe to investigate materials. Published in The Canadian Journal of Chemical Engineering, the Experimental Methods in Chemical Engineering series touches on many techniques presently used within the CCI, including the use of electron microscopy, X-ray photoelectron spectroscopy (XPS), atomic force microscopy (AFM) and other methods of material characterisation. This highly cited virtual book series, led by Prof. Gregory Patience from Polytechnique Montréal, aims to bring together experts in their respective fields to provide an overview of a particular characterisation technique or methodology, discuss their strengths and weaknesses, and guide new researchers in proper use.
Dr Nicholas Dummer, a MaxNet Research Fellow in the Max Planck Centre of the CCI, commented: "It was an honour to participate in this series with my colleague Dr Thomas Davies, who is an expert electron microscopist, and provide a helpful insight to new operators and researchers on such a widely used technique. The virtual book series covers many of the experimental techniques we routinely use in the CCI. However, the capabilities of these tools are not always fully understood by end-users. In this sense, we can use the series to really get the best out of the instruments and continue to produce world-leading research. As part of this review, I was able to share my experience of X-ray ultra-microscopy (XuM), where we used X-rays to image the internal structure of an industrial catalyst without damaging or sectioning it."
Scanning electron microscopy, better known as SEM, uses electrons instead of light to generate images of samples at millions of times magnification and is considered a fundamental laboratory tool for material scientists, chemical engineers, catalysis researchers and biologists. A literature review included in the review showed that in 1989 there were only around 500 papers mentioning "scanning electron", but by 2021 this had grown to over 41,000, highlighting the growing importance of electron microscopy in modern research. Crucially, its importance to a broad range of disciplines means that it will be a critical centre for collaborations across Cardiff University and provide a hub for cross-departmental collaboration, particularly with our colleagues from the Institute for Compound Semiconductors (ICS). The semiconductor industry routinely uses SEM to investigate switches, transistors and integrated circuits. Fortuitously, the CCI will have their world-class microscopy centre located next door to a world-class ERDF-funded Cleanroom.
The Translational Research Hub, based on the Innovation Campus, will house the CCI's existing benchtop, tungsten and Field emission SEM's alongside its Transmission electron microscopy (TEM) and brand-new aberration corrected advanced Scanning Transmission Electron Microscope (AC-STEM), a Cardiff first, reported on late last year. These advanced microscopes will be coupled with a suite of sample preparation tools including, ion milling, sectioning and coating systems to form the CCI Electron Microscopy Facility (CCI-EMF) aimed at delivering high-resolution imaging to a broad base of users.
Excitingly, the CCI will offer comprehensive application training in advanced characterisation techniques across the board, with the TRH housing a wealth of complementary analytical tools as well as new post-graduate researchers, visiting academics and external users from industry.
This review will serve as a useful introduction to the new SEM capability (see extracted images) so it is very timely that it has been published just before the TRH opens. The microscopy and surface science suite at the TRH is made possible by bringing together £3.6m from European Regional Development Fund (ERDF) through the Welsh European Funding Office (WEFO) with £750K from the Wolfson Foundation, £3.7m from HEFCW and additional match funding from Cardiff University. This funding and support will not only allow the CCI and the University as a whole to gain a world class facility, but also establish a much-needed base of advanced microscopy in Wales.
The authors would like to thank the European Regional Development Fund (ERDF), the Welsh European Funding Office (WEFO), The Wolfson Foundation, The Higher Education Funding Council for Wales (HEFCW), the Max Planck Cardiff Centre on the Fundamental of Heterogenous Catalysis and Cardiff University for their support.
http://doi.org/10.1002/cjce.24405
Nicholas F. Dummer MaxNet Research Fellow
Max Planck- Cardiff Centre on the Fundamentals of Heterogeneous Catalysis FUNCAT, Cardiff Catalysis Institute, School of Chemistry, Cardiff University.