Culture of innovation at Copner Biotech
10 January 2022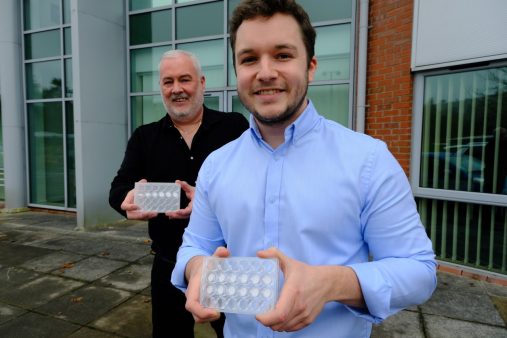 A biotech company founded by Cardiff University graduates Jordan (BSc 2018) and Alan Copner (BSc 1983) is exploring new research collaborations after lodging new patents.
Jordan founded Copner Biotech Ltd in 2020, with the goal of investigating and developing new products and services for the 3D cell culture market.
Jordan said growing cells on a three-dimensional structure, rather than on a flat petri dish, yields a range of benefits.
"Growing in a petri dish is not without its setbacks, and those grown in 3D exhibit more physiologically relevant characteristics," he said.
Their technology in cell culture scaffold fabrication won the International Life Sciences Innovation award from GHP this year.
The firm recently lodged patents for its 3D cell-culture scaffold and Negative Space Inkjet Printer, and its innovative products now feature on leading bio-tech sales portal, 2B.
Their constructs have been shown to optimise cell adherence, proliferation and maintain important cellular biomarkers, whilst using a low cell seeding concentration.
Jordan spent four years at Cardiff University studying biochemistry, whilst his father Alan spent three years studying physics.
Alan, a software engineer, has devised innovative programmes for 3D bioprinting the structures, creating major benefits in terms of the accuracy of results and reducing the need for testing of new drugs and treatments on animals.
"The predominant use of bioprinting is the production of tissue-like structures for drug testing, with more and more large companies looking towards this technology as an alternative to animal testing," said Alan.
Copner Biotech, based at Tata Steel's Ebbw Vale Innovation Centre, has formed partnerships with Swansea University and also with leading Welsh biotech company, Jellagen, who have pioneered the use of jellyfish collagen as the raw material for culture scaffolds.
The collaboration between the two firms has been supported by a £123,724 SMART Cymru award, and the partnership will combine the bio-inks derived from jellyfish with Copner Biotech's advanced software.
The company now plans to enter more high-level research collaborations to explore other bioprinting technologies and applications.