Switching to Cardiff innovations
17 January 2022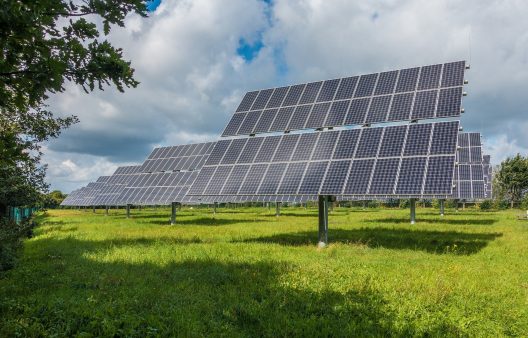 Cardiff University helps businesses thrive by sharing academic knowhow. A Knowledge Transfer Partnership (KTP) is one of the best ways for organisations to innovate and grow. KTPs link a business with an expert researcher and a graduate, helping to transfer great ideas and skills. Here, Dr David Bembo, Director of the University's Research & Innovation Services Team, discusses Cardiff's latest KTP success.
"Cardiff has a track record for delivering great KTPs and I'm delighted to note that our latest success – judged 'outstanding' by Innovate UK – further extends that reputation.
It involves a renewable energy focused SME, SRS Works Limited, which teamed up with Cardiff to address a business need.
The Berkshire-based company designs, supplies and installs Solar PV, and Energy Storage Systems, including PowerCore – an energy storage and smart energy management system which maximises self-consumption of household solar PV by storing excess solar energy.
The company recognised the old PowerCore system was driven by a bulky silicon power converter, limiting its functionality, scalability and quality, so SRS teamed up with academics from Cardiff's School of Engineering to develop a state of the art AC-DC converter (APC).
Applying the University's academic expertise and knowledge in electronics and engineering, a new fully functioning compact and modular AC-DC power convertor prototype was developed.
It is based on technologies in which Cardiff researchers excel: first, Gallium Nitride (GaN) field-effect transistors which reduce the size and power loss of the converters thanks to their fast switching (50 kHz) and low resistance; and second, a new high-frequency method of boosting converter topology which increases the converters' reliability and power density.
The prototype has key benefits. It's faster, smaller, lighter and more cost-effective, and has the potential to drive a step-change in the global market. The company is currently exploring options for moving the prototype into a commercial product.
The KTP brough other advantages, too, enabling SRS Works Ltd to build know-how in new design development, based on cutting-edge components.
Babar Baluch, Director, SRS Works Ltd, neatly summed up the relationship.
"The KTP has really been a breath of fresh air, allowing us to work with the UK's best academics to produce products and services to improve our business.
SRS are involved in 3 KTP's currently with Cardiff University. We can't speak highly enough about the whole process, the people we have met and worked with, and our associates.
"It's been a great process from start to finish with top class monitoring and encouragement. The KTP process really is set up to succeed!"
The KTP Associate, Dr Sheng Wang, took up a new post at Cardiff University whilst working on the project, but was able to voluntarily support two colleagues, Dr Karolina Rucinska and Rajesh Rajamony, to deliver winning results.
COVID-19 affected project timelines, but the team gained knowledge of international supply chain processes during the pandemic and rose to the challenge of delivering the project's objectives.
As Dr Sheng puts it: "Being a KTP Associate was a great experience and a unique opportunity to work across disciplines, sharing and gaining understanding in a variety of areas."
Part funded by Innovate UK and the Engineering & Physical Sciences Research Council, the venture paved the way for a further two KTPs between SRS Works Ltd and Cardiff University.
The SME has developed a close working relationship with Cardiff over five years, leading to a range of Innovate UK bids, funding for a PhD student at Cardiff, and guest lecture talks at the company.
During the project, Dr Wenlong Ming, Academic Supervisor, was promoted from Lecturer to Senior Lecturer and was awarded a Senior Research Fellowship with the Compound Semiconductor Applications Catapult.
He then developed two more KTP project applications, one of which has already been awarded. His portfolio of research and industry engagement is rapidly growing as a result of leading the project.
In the KTP summary report, Dr Ming states: "A KTP is one of the most effective routes to build and strengthen links between universities and companies. It offers both parties a wide range of benefits which are rarely available from other schemes.
"Companies gain technical support from universities to develop and commercialise cutting-edge products. For universities, KTP projects provide opportunities for implementing innovative research outcomes to solve real-world challenges. KTPs help academic staff to broaden their networks, strengthen their industry links and build up solid career paths."
Despite the trials of the pandemic, KTPs continue to thrive. Welsh Government recognised the economic challenges and announced earlier this year it would contribute 75% towards the total costs of KTP projects that meet eligibility criteria and are approved for participation in the KTP programme, until the end of February 2022.
For more information about working with Cardiff, feel free to drop us a line about how we can join forces to turn great ideas into new innovations.
Contact bep@cardiff.ac.uk