2021 – Connecting, Collaborating, Creating
20 December 2021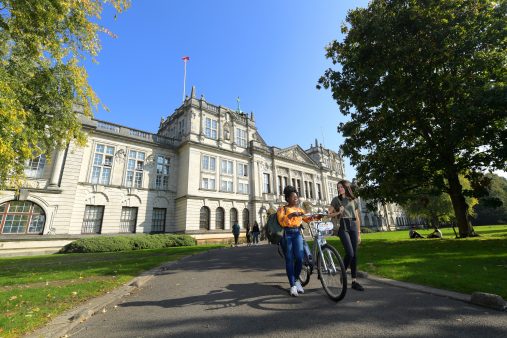 Cardiff University's work to turn research into real-world remedies for society's pressing problems continued apace in 2021. New teams were assembled, buildings delivered, deals done, awards won. Here, we look back at the people and partnerships that drove the University's creative agenda.
In a few short weeks, a new collective will coalesce in sbarc | spark. Some 500 social science researchers from disparate disciplines, professional staff and external collaborators will unite under a new roof.
Described by the Guardian as society's SuperLab, the building brings together experts from twelve social science research groups alongside external partners to tackle society's wicked problems – climate change, crime and security, young people's mental health, and many more.
Academic and professional staff have joined us virtually this month to hear about the spirit of sbarc|spark – a cooperative community based around shared interactions and collective social endeavour.
In January, we will cut a ribbon and open the doors, sparking to life a furnace for a whole range of creative partnerships and enterprises across all sectors.
Firm foundations are in place. Professor Chris Taylor, SPARK Director, and Sally O'Connor, SPARK Director of Operations, have established Team SPARK over the past year. Kate Lane has led the transition programme, guiding groups towards their new home, and student enterprise specialist Rhys Pearce-Palmer has been appointed to manage Cardiff Innovations@sbarc|spark – our new centre for spinouts and startups.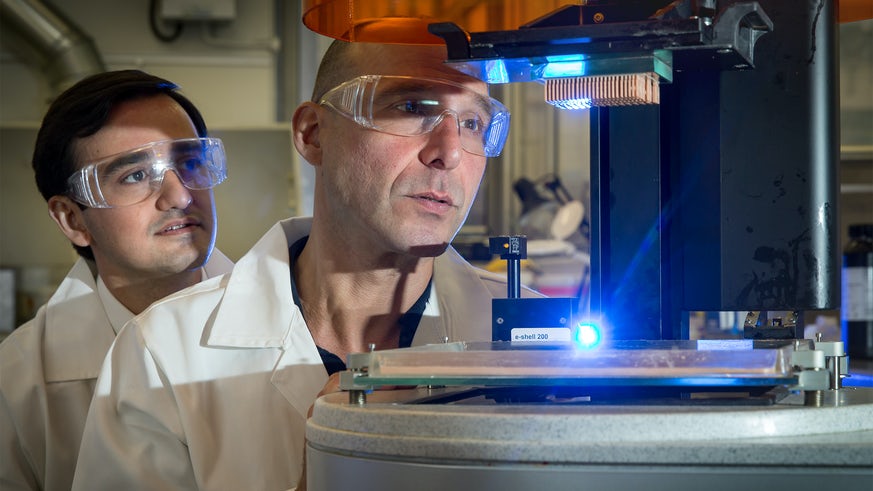 In May, RemakerSpace, our new centre dedicated to remanufacturing and reuse, confirmed it was to have a new purpose-built home in sbarc | spark. A month later, sbarc | spark became Wales's first living wage building. The University worked with Cynnal Cymru – the sustainable development forum for Wales – to receive accreditation from the Living Wage Foundation.
New partnerships were forged in 2021. Cardiff University became the sixth partner of SETsquared, the world's top-ranked university-business incubator, thanks to the work of Dr David Bembo and his team in Research & Innovation Services.
We found new funding streams for partnerships throughout the year. The highlight arguably came in July when the Cardiff University-led media.cymru project was awarded £22m through UK Research and Innovation's flagship Strength in Places Fund, match-funded by industry and university partners. In July, bp and Johnson Matthey announced they were partnering with Cardiff University and The University of Manchester in a £9m project to convert CO2, waste and sustainable biomass into clean and sustainable fuels and products.
Across the University year, we kept on driving ideas, spinouts and startups across society in 2021.
Professor Sam Evans, School of Engineering, and his team joined University of Southampton academics to create a perfect fitting face mask to protect frontline workers at the heart of the coronavirus pandemic. In business, genomics startup Broken String Biosciences, which works to unlock next generation medicines, joined Illumina, Inc – the global accelerator. And the advanced technology systems company Thales announced it was partnering with Cardiff to develop cybersecurity solutions at the company's ResilientWorks 'living laboratory.'
We took accolades, too. A partnership which places children who wait the longest for adoption in Wales, Adopting Together, triumphed at Innovate UK's annual Knowledge Transfer Partnership (KTP) Awards. Medical student Luthfun Nessa won two national innovation awards in two days with her pressure ulcer-sensing mattress topper. And a project for green social prescribing took the National Lottery Wales Project of the Year award this month. Cynon Valley Organic Adventures, a social enterprise based in Rhondda Cynon Taff, has collaborated with Professor Les Baillie to pioneer a nature trail where healthcare professionals refer people to nature-based activities – such as gardening or outdoor activities – bringing mental and physical benefits.
In short, whilst we have done much to collaborate and create, we are doing more to share our success. Our Home of Innovation LinkedIn generated 650,000 post impressions across the year, and 12,000 viewers read this blog.
In 2022, armed with a refreshed Research and Innovation strategy, the University will continue to support our community of scholars to work with imagination, energy and creativity, developing solutions to global challenges, whether COVID-19, mental health, crime and security or climate change.
Finally, don't forget the Wales Student Market is another great Cardiff collaboration, and there's just enough time to buy a gift that will support an enterprising graduate or student!
We wish you a multidisciplinary Christmas, and a collaborative New Year.
The Innovation Communications Team
homeofinnovation@cardiff.ac.uk