A taste of milk&sugar
9 September 2021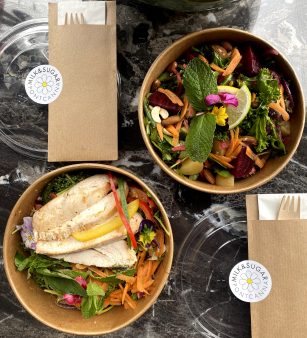 Independent café group, milk&sugar, will provide hospitality in Cardiff's landmark sbarc | spark building, fuelling great ideas. Here, the group's owner, Tim Corrigan, explains why he's delighted to be opening the company's sixth Cardiff outlet on Cardiff Innovation Campus. 
"We were absolutely delighted – and really excited – when we were chosen to be part of this incredible project. sbarc |spark and Milk&Sugar are all about creating new things in new ways.  
I know from personal experience that great cafe/breakout spaces can play a huge part in creating a heartbeat within a building. When our collective opened a café in One Central Square, it provided a haven for busy office workers in the heart of the city.  
Here, they could be instantly at ease, get to know new clients, breakfast with colleagues, catch up over a quick coffee, find quiet space away from office chatter, or simply work remotely with fewer distractions than home. 
sbarc | spark shares the same creative ethos that's at the heart of Milk&Sugar's hospitality: we're both bringing together quality 'ingredients' to help new ideas come to fruition.
As a collective, we take great pride in making sure we use only the freshest produce, and best products available for our customers. 
Everything on our menus in the cafés, breakfast, brunch, sandwiches & salads, are all made fresh to order, with produce from great local suppliers. 
The bulk of our produce is delivered fresh from Cardiff market, one mile away.  We cook to order, and prepare everything daily, thus keeping down food our miles. 
We use one of the UK's leading independent food wholesalers, Castell Howell, from Carmarthen, for the rest of our drinks and other consumables, bringing supply chain benefits to the Welsh economy.  
Milk&Sugar always tries maintain a workable stock holding of most produce to reduce travel time into the store, so that when possible we can have a couple of deliveries a week, bi-weekly, or monthly, rather than daily. 
We are in talks with a "living food" company that may give us the opportunity to grow most of our fresh produce closer to the sbarc | spark outlet, using very little water and power to grow, we are hoping this could happen. It's early days, but it is a way of looking at urban farming, and the issue of future food shortages. 
Generally, we have very little waste as a company. We make a lot to order, and try to settle down our preparation to a routine based on data from daily/weekly/monthly customer orders, and trends. 
We use glass where possible, not plastic. Our coffee company, illy, has won one of the world's most ethical companies, nine years in a row.  
And we've opened up our own eco-store in Cardiff's Pontcanna Street, selling eco products including chemical free body care, refillable pantry essentials, zero waste food lines, healthy juices, smoothies, and made to order salads to takeaway. 
Milk&Sugar will share these ethical values with Cardiff University's researchers, collaborators, staff, students and local residents.  
Cardiff's Deputy Vice Chancellor, Professor Damian Walford Davies, perhaps puts it best, noting that Milk&Sugar's high-quality products and service will contribute to the 'energy, sociability, connectivity and creativity at the heart of sbarc | spark.' 
We hope that by proving a great cup of coffee and good quality, locally produced food, Milk&Sugar can spark the creative thinking needed to solve pressing societal problems, forge new ventures and really make Wales and the world a better place for all of us."