MAGMA – a magnet for Innovation
31 August 2021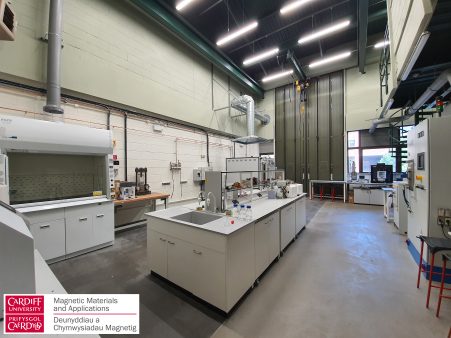 Cardiff University's newly refurbished state-of-the-art MAGMA (Magnetic Materials and Applications) laboratories are now open for collaborative research and industrial projects in the School of Engineering. MAGMA Research Associate and lab manager Phillip Lugg-Widger outlines the great new facilities for trialling and testing magnetic materials.
"Following a great deal of effort from our team over the last 18 months, the MAGMA laboratories are now formally open. Thanks to extensive renovations and upgrading of all facilities, we are now ready for business.
We're inviting users from all external partners, both industrial and academic, to visit, collaborate and conduct cutting-edge research, testing, and analysis in our new innovative test centre (as Covid restrictions allow).
We now have a range of first-class facilities including:
Electromagnetic Modelling Laboratory (EML) – Providing an electromagnetic machine prototype design capability and allowing cutting edge research on the incorporation of real material and degradation models.
Magnetic Material Processing Laboratory (MMPL) – Housing state of the art annealing, laser processing and spark plasma sintering facilities essential for the development of new and improved magnetic materials.
Magnetic Characterisation Laboratory (MCL) – Enabling world-leading measurement equipment to meet the requirements of next generation materials and applications.
Future research in these newly developed laboratory facilities will focus on processing, characterisation, manufacturing and recycling of specialist magnetic materials to underpin the green economy.
Magnetic materials are currently used to produce electric motors, transformers, generators, sensors, data storage and many other components that are critical to future environmentally friendly transport, electricity networks and many other applications within the new green economy.
MAGMA's core areas of research expertise include modelling and electromagnetic design, electrical machine manufacturing, fundamental magnetic material properties, material process technology development and magnetic materials recycling.
Our highly respected team includes academics Dr Phil Anderson, Dr Jeremy Hall, Prof. Sam Evans, Dr Chris Harrison, Dr Jun Liu and Dr Phillip Lugg-Widger from the School of Engineering, together with Prof. Phil Davies from the School of Chemistry. We offer support in the following areas:
Modelling and Electromagnetic Design
Electric Motor-Generator Manufacturing
Fundamental Magnetic Material Properties
Material Process Technology Development
Magnetic Separation and Grading for Recycling
MAGMA is funded by the Welsh Government European Regional Development Fund with support from Cardiff University for a total of £2.1m to develop world-class research in magnetic materials for the future.
For further information, Dr Phil Anderson recently gave an interview with IOM3 as part of a podcast series investigating soft magnetic materials which you can listen to the full audio here.
The MAGMA team also recently launched their newly refurbished facilities as part of a Virtual live event with UK Magnetics society (UKMS). Presentations highlighted some of the leading research capabilities and offered a virtual tour of our new facilities.  A full playlist of this event can be watched here.
Our doors are open for business. So if you have a question, wish to learn more, or would like to connect, collaborate and create new projects, then please get in touch!" 
Contact: Kevin Jones (MAGMA Project Manager)
Telephone: +44 (0)29 2087 4411
Email: magma-project@cardiff.ac.uk
Blog: http://blogs.cardiff.ac.uk/magma/
Twitter: https://twitter.com/CardiffUniMagma
Website: www.cardiff.ac.uk/magnetic-materials
LinkedIn: https://www.linkedin.com/company/cardiff-university-magma