Shaping a seat of innovation
5 July 2021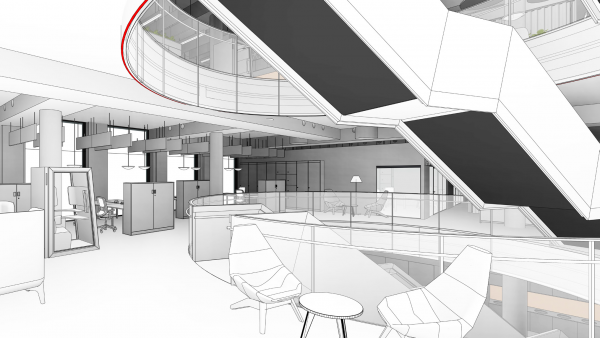 Choosing the right furniture, finishes and fixtures for a building can inspire creativity and bring ideas to life. Cardiff University is partnering with Bridgend-based BOF to furnish sbarc | spark – the University's future 'Home of Innovation,' due to open this coming winter.  And as befits an innovation centre, flexibility will be key. The University's sbarc | spark transition manager, Kate Lane, explains.  
"In the race to completion, the sbarc | spark building is close to the finish line. Mechanical, electrical and plumbing work is being completed; fixtures, fittings and furniture go into the building over the next few months.  
It's a major undertaking. Four hundred social science researchers and staff are bound for sbarc | spark from their dispersed offices, many of them within older Victorian buildings along Park Place. Some 13 social science research groups have come together as SPARK – the social science research park.  
Once they've migrated to their new home on Cardiff Innovation Campus, they'll eventually be joined by a further 400 entrepreneurs, investors, organisations and student enterprisers as the project matures and post-pandemic recovery grows.  
BOF's Design Department collaborated with the University and sbarc's key stakeholders, attending regular online project development meetings and contributing to virtual interior design workshops.  
Thanks to lockdown and remote web platforms, BOF were able to easily demonstrate a 'live' 3D model (furniture & architectural) through Microsoft Teams, enabling the University to see the project in 3D rather than just a 2D floor plan view, and helping us to visualise what works and doesn't work within the building. 
Sustainability is a key consideration when specifying furniture or both BOF and Cardiff. Locally vetted and compliant supply partners were proposed wherever possible for the sbarc project, helping to ease the furnishing process.  
Flexibility was also a major factor in product selection. BOF aligned with our aspirations to create fully agile workspaces – good examples include shared componentry and modular-based product ranges. 
This really helps to create 'agile' spaces, where furniture can be rearranged to change the shape and functions of rooms and make them available for a variety of functions and uses. 
As the furniture illustrations throughout this piece clearly show, sbarc will be an inspiring home in which to dream up tomorrow's big ideas.  
The building architects, Hawkins\Brown, aim to create a stimulating setting that brings together commercial tenants and university academics for creative interactions and collaborations. 
sbarc | spark allows space and support to accelerate start up growth and achieve a step change in promoting impactful inter-disciplinary research and translational innovation activity.   
Flexibility is at the heart of the vision. Activities within the building require very different environments – from quiet spaces for the behavioural lab to the buzzing public ground floor. The building needs to respond to this, whilst creating a flexible, re-programmable floor plate.  
The building is designed by activity instead of department, using 'activity based working', with the more private, secure spaces further away from the landmark Oculus staircase and the open plan / breakout zones hugging it. 
It's going to be an amazing facility for Cardiff. I, for one, can't wait to see it open this winter." 
Kate Lane, Transition Manager, sbarc | spark. 
For further details about sbarc | spark, visit: https://campaigns.cardiff.ac.uk/innovation-campus