Urban innovation in Canada: a few lessons
18 September 2018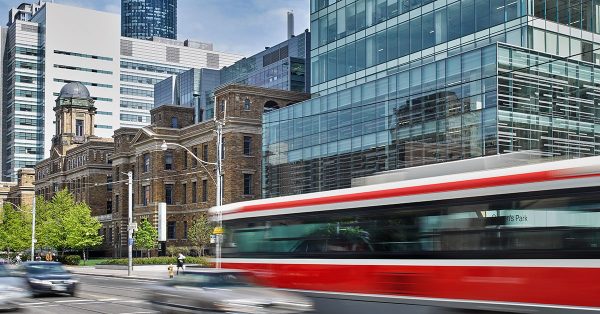 Professors Rick Delbridge and Kevin Morgan visited Toronto and Ottawa to explore and begin to map the changing role of universities and cities in urban innovation networks.
"Current developments in urban innovation present us with opportunities but may require new ways of thinking and acting."
The Canadian capital and Toronto are instructive examples because both are trying to develop "urban innovation platforms".
This involves a combination of actors – including municipalities, public agencies, universities, colleges, firms and incubators – working together to fashion a local "innovation ecosystem".
An innovation ecosystem describes the large number and diverse nature of participants and resources that are necessary for innovation and is extolled by UK Government through its Industrial Strategy and UK Research and Innovation through its Strength in Places Fund.
Social impact and public value
As a University, we need to continue to develop our 'connectedness' with our region, act strategically to develop key partnerships and also invest in ways that facilitate 'grassroots' involvement both from our students and our local citizens.
There are promising developments – both within the university and in our discussions with external partners, including our home city council and the Cardiff City Region.
We need to continue to develop and expand these in a strategic way, as we engage with and talk to our major partners, starting with our "landscape" public sector partners in Welsh Government, NHS, and BBC Wales.
A second lesson centres on how involvement with the innovation ecosystem is supported by the student body. Algonquin College's Social Innovation Lab is one of a number of examples that we have come across.
Developing something similar at Cardiff could create a university-wide network open to all colleges and schools where students contribute ideas to the civic mission and public value objectives of the university.
The great merit of the Social Innovation Lab is that:
it would tap the creative energies of our students;
it would create inter-disciplinary opportunities for students from across the university to meet and work across schools; and
it would provide a highly visible mechanism through which the university engages with external parties in the public, private and third sectors, enhancing social impact and public value.
Small nation, big ambitions
The implications for the City Region and for Wales more generally is that a 'regional innovation ecosystem' perspective can help in thinking more ambitiously and in more holistic terms.
The City Region presents an opportunity to think and plan at a more ambitious and integrated level.
We need to take the opportunity presented by the short lines of communication in a small nation and ensure we are equipped to act swiftly and in concert with our key partners when opportunities present themselves.
Current funding opportunities such as the Industrial Strategy Challenge Fund and Strength in Places Fund provide opportunities (indeed demand) a collaborative and strategic approach.
The challenge is to develop ways of acting that deliver on the potential that such an approach offers.
Professor Rick Delbridge is the University Dean of Research, Innovation and Enterprise and Academic Lead for the forthcoming Social Science Research Park.
Professor Kevin Morgan is the University Dean of Engagement.