COVID-19 lockdown and the needs of garment workers in Bangalore, India
20 October 2020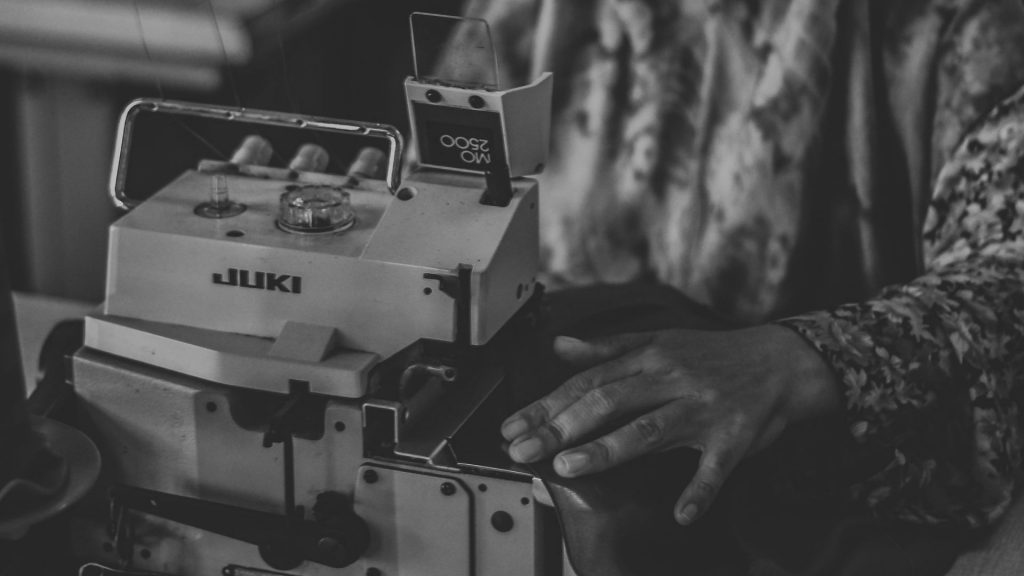 In our latest post, Professor Jean Jenkins explains the work she has been undertaken together with colleagues as part of the Economic and Social Research Council (ESRC)-funded Operationalising Labour Rights project.
Since October 2018, researchers from the Wales Institute of Social and Economic Research, Data and Methods (WISERD) and Cardiff Business School have been working in partnership with NGO, Cividep-India. We've been analysing data on whether and how garment workers in Bangalore are able to gain access to remedy (that is, the steps that are taken to prevent, investigate, punish and redress business-related human rights abuses) at a workplace level.
Our project is called Operationalising Labour Rights (OLR) (OLR). We presented some of our preliminary findings to the German Sustainable Textile Partnership in April 2020 and we've contributed to the third phase of the United Nations Office of the High Commissioner Human Rights Access to Remedy Project (ARP III).
So far, we've found the following violations of employment and human rights are common in garment factories:
explicit and open employer hostility towards freedom of association,
routine use of humiliation, isolation, verbal and physical violence as methods of managerial control,
deliberate disruption of continuity of service as a means of limiting workers' statutory entitlements and the potential for unionisation,
manipulation of paperwork to deny workers their rights,
factory closure as a means of denying workers their entitlements, including wage theft.
On 24 March 2020, our study was temporarily brought to an abrupt halt, as lockdown in India was announced with just four hours' notice. Garment workers found themselves turned out of work as factories closed their doors, international brands cancelled future orders and some even reneged on contracts for work already completed.
"The terrible hardship that ensued meant that hundreds of thousands of workers began to walk home to their villages while those who remained in Bangalore were without the income they needed to pay their rent or buy food."
In the context of crisis, the OLR project team in India and Cardiff worked together to adapt OLR research tools (phones and tablets) to allow the Garment Labour Union and Munnade Social Organisation to connect with workers in need. Through the months of April and May 2020 we recorded 412 workers in urgent need of food and medical supplies. Almost 90% of these people were garment workers, with the remainder being either construction or domestic workers. Most (83%) were migrants from other areas who came to Bangalore in search of work, were living with their immediate families and had family members who were dependent on their income.
The vast majority (just over 92%) of the workers lived in rented accommodation, and when asked whether they had sufficient money to afford to pay for rent and the basic essentials of life, no less than 96% answered that they did not. While the government had ordered employers to pay workers until the end of March 2020, around 30% of the workers in our data had been paid only in part. Indeed, around 10% had been paid nothing for March and in subsequent months, almost a third reported that they had not received any payment of wages since lockdown was originally imposed.
As the COVID-19 crisis rolls on, larger garment factories opened up again in Bangalore towards the end of May 2020 but the situation remains unpredictable and is subject to the imposition of local lockdowns. Elsewhere, the garment sector is in crisis worldwide and workers are, as ever, the casualties.
Our partners in India, Cividep, are continuing with their work to support garment workers on the ground. As factories reopen in Bangalore unemployment remains high and many garment workers are unable to get their old jobs back. For those who are back in the factories, workplace pressures have intensified and hardship continues.
"Whether employers are responding to the competitive stresses associated with the pandemic or engaging in opportunistic exploitation of workers' increased vulnerability, there is a very real threat of a poorer standard of the 'new normal' for labour rights, trade union freedoms and conditions of work."
The OLR research team is very much aware that access to remedy may become even more difficult for garment workers to obtain in the days ahead. In this context we persist in our determination to understand and document workplace realities in the hope that our research can contribute to more positive change and decent work for all.
Jean Jenkins is Professor of Employment Relations at Cardiff Business School.
The Operationalising Labour Rights project is funded by the ESRC Global Research Challenges Fund – grant reference: ES/S000542/1.
This article was originally published on the WISERD blog.