Ukraine, South East Wales Mental Health Partnership, Student Voice, COVID-19
31 March 2022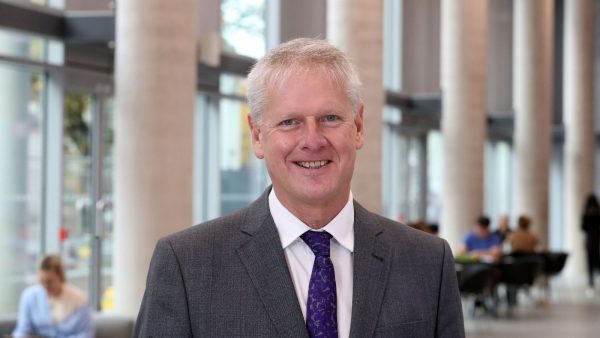 Dear colleague
You will be aware that Putin's failed blitzkrieg strategy in Ukraine has given way to the indiscriminate bombardment of civilian population centres as a means of achieving his illegal war aims. This brazen flouting of international humanitarian norms is turning Russia into a rogue state, and the effects of sanctions on Russia are being felt not only there, but by all sides. Nobody wins from these circumstances and the consequences for the population of Ukraine continue to horrify. We are working intensively on a programme of support for both staff and students from Ukraine who may be in need of sanctuary, in the form of scholarships and supported placements. I have outlined in previous emails our stance on the international isolation of Russia. We have severed any ties with state institutions or sources of funding, but do also acknowledge that individuals will need to negotiate academic relationships on a case-by-case basis, knowing that support for the war amongst our counterparts in Russia is far from universal. I also understand the stress that the war is causing for our existing staff and students from Ukraine, Russia and Belarus, and indeed more generally. Care First have specific support in place which is available to all staff.
This comes on top of an already existing rise in mental health issues, as I am sure you are aware. In recent years all universities, Cardiff included, have seen a steep rise in students presenting with mental health problems ranging from issues that can be treated with advice or counselling, to emergency cases that require immediate medical intervention. The very fact that mental health issues can vary in severity in this way creates its own difficulty, because we must be very clear that in common with other universities, we do not and cannot provide clinical mental health services ourselves. Whilst we can deal with many of the cases via our counselling service, more acute or serious mental health problems become a matter for the NHS. The point at which we need to refer a student to the NHS service can be a difficult one to judge, and there is a danger that the point of transition represents a moment when the handling of the case can falter. We at Cardiff University have been aware of this for some years, and have introduced a range of measures to ensure that our students are supported throughout. However, the problem is not confined to this university and the right approach is to work in partnership with the other universities in the city, and with the NHS. The upshot is that from April, the HEFCW-funded South East Wales Mental Health Partnership will begin its work. This will allow any of our students, along with those from Cardiff Metropolitan University and the University of South Wales, to be referred to an NHS mental health team based in our Centre for Student Life. By these means it will be possible to ensure that students who require non-emergency clinical assessment and treatment will be able to receive it in a timely and appropriate manner, and communication between all those involved in supporting student cases will be made easier. This is a great step forward for our students and a significant achievement both for our Student Life team and for all our partners.
One of the most important dimensions in supporting students in this way is the ability to listen. That applies more broadly to the student experience, and in that spirit I wanted to let you know that a major project is underway in relation to Student Voice, of which recent changes to module enhancement are only the start. The vision over the next three years is to facilitate a behavioural and cultural shift in Student Voice activity at Cardiff, moving from a reactive to a proactive process of continuous improvement. The work is being led by Professor Luke Sloan, who is Director of Teaching and Learning in the School of Social Sciences, and Ellie Mayo-Ward, Student Engagement Manager in our Learning and Teaching Academy. They are currently working on a Student Voice Framework that will outline the expectations of all university stakeholders in listening to the student voice, engaging with students in meaningful ways, closing the feedback loop and ensuring that students are integral to finding solutions. This latter point is critical. The more our students are involved at an early stage in changes that affect them, the more likely they are to find their experience improved. The framework will also cover the key channels through which the Student Voice is surfaced at the modular, programme and school/institutional level. It will identify key data collection mechanisms, who is responsible for overseeing them, and the roles of different people in these processes. Finally, the framework will set out expectations for the functioning of Student Staff Panels and the Student Representatives System in academic schools. Primarily, the framework will help build a culture around Student Voice which will encourage core behaviours such as building relationships with students breaking down the 'us and them' barrier. Please do support this project, and if you would like to take part in the consultation on the framework, you can email the Student Engagement Team on studentengagement@cardiff.ac.uk.
Returning to the health theme, you will be aware that the Welsh Government has removed almost all COVID-19 restrictions, and we will be reflecting this in our guidance for Cardiff University. Clearly, the possibility remains that at some point a new, more serious variant could begin to circulate so we will remain alert. However, we are now highly experienced in how to deal with such a contingency and will have plans in place as necessary, particularly in the winter months. In the meantime, please continue to show consideration for others, and if harbouring any respiratory or cold-like symptoms, whatever the cause may be, take the necessary precautions to reduce the risk of spreading infection.
As you know, COVID-19 is still circulating at very high levels both here and round the world, and there will, unfortunately, continue to be cases that require treatment. It was therefore very heartening to see that we continue to make our contribution to tackling the pandemic, in this case by repurposing the Pfizer vaccine — designed as a prophylactic — as a treatment for patients who already have COVID-19. A team led by Professor Stephen Jolles, working with Dr Mark Ponsford in the School of Medicine, successfully used vaccination to treat a patient in what is thought to be the first instance of the vaccine being used for therapy instead of prevention. This offers hope for patients with immunodeficiency who otherwise have mounted a low response to the vaccine, and considers the problem in an entirely different way. This novel use of an MRNA vaccine will doubtless cause reverberations in the scientific community and will spark off other lines of research now that the concept has been shown to work.
Good health is as much about encouraging positive behaviour as about preventing the spread of pathogens of course, and we at Cardiff University are playing our role in that respect too. Working with Nottingham University, a project to encourage more poeple to reap the health benefits of wild swimming has been launched, which is designed to help people understand where it is safe and convenient to swim, whilst educating them about safety precautions as well as the evidence for the benefit of this activity to their health. Led on our side by Dr Dawn Knight of the School of English, Communication and Philosophy, this project will, I am sure, build on the resurgence in outdoor activity that was an unexpected byproduct of the long periods in lockdown that we all endured in 2020 and 2021. It was also great to see the return of the Cardiff Half Marathon, which we have sponsored for a number of years, towards the end of the month. I used to run the distance myself and I well understand the huge health benefits of this activity, sensibly undertaken. Our Deputy Vice-Chancellor joined the race along with many others of our staff and students, who between them raised over £60,000 and counting, so a big thank you to all of them and to all of you who sponsored and supported them.
In other news, I'm delighted to report that our new innovation building, sbarc | spark has opened. It's a beautiful building with a great cafe that's open to the public, and a very fitting home for all the public interest work in social sciences that we engage in. This is our flagship centre for innovation of all kinds, and is the fulfilment of our vision for ensuring that innovation is something that crosses the campus, and arises from the interplay between ideas, people and facilities. To be clear, innovation absolutely is about designing new products and technologies, as the soon-to-open Translational Research Hub next door will testify, but new products will be deployed in society, and used by people. The social and policy-related aspects of innovation are critical to its success and sbarc | spark will be underpinning that. Well worth popping in if you are passing, or even making the trip to see for yourself.
Just a quick point on our international activity: as part of our collaboration with the University of Waikato we have launched an International Collaboration Seed Fund, to which I encourage you to apply. It has been very encouraging to see how it has been possible to deepen and strengthen this partnership even through the covid-enforced years of physical separation, and now is a good time to prepare the ground for the ability to work together in a more pre-covid way whilst preserving everything we have learned about remote collaboration.
Finally, Ramadan begins next month, and I'd like to ask you to support those who are observing this important time in the Islamic calendar, both within the university and beyond. Ramadan –  one of the Five Pillars of the Islamic Faith –   is a holy month of prayer and self-reflection, where Muslims are encouraged to read the entire Qur'an. It is due to begin on Saturday 2 April 2022 and end with Eid-al-Fitr, or the Celebration of Breaking the Fast, on 1 May. You may find that colleagues or students alter their working or study hours in order to carry out additional reading, prayer or worship. Those observing Ramadan will also fast each day from sunrise to sunset. This includes not drinking liquids or smoking, as well as not eating. Fasting may affect people in different ways, so please do be sensitive to this. I remember from my childhood days in Bahrain how significant Ramadan is, being a month of contemplation rather than merely superficial self-denial, entailing the avoidance of argument and malice, with a focus on good deeds. We can all play our part by understanding and supporting those who may be participating.
With best wishes
Colin Riordan
Vice Chancellor
Read about our strategic direction and focus on research and innovation, education, international and engagement.