Vice-Chancellor's all-staff email – June 2019
8 July 2019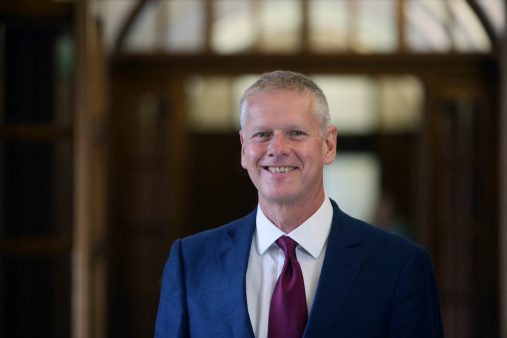 Dear colleague
Earlier in the month I attended a meeting of university leaders in Hamburg, on the topic of Universities and Society (the topics of necessity have to be quite broad). It was striking that so many universities across the world — though not universally — are facing similar developments to those we have noted in the UK in recent years. One in particular is a loss of public trust and confidence, often in parallel with a similar diminution in political support.
A view from the US said that universities used to be seen as a positive force in society and now are seen as negative, the decline in public trust being ascribed to 'clinging to the tweedy past'. I'm not sure that is the root cause in our case but the proposed remedy — which is that we need to be in our communities demonstrating what a university is and why it matters to society — I would wholeheartedly subscribe to and indeed we can demonstrate our community engagement both locally and internationally, as shown for example by our Cardiff-Somaliland project, led by the School of Geography and Planning's Dr Richard Gale and Dr Andrew Williams and by local community leader Mr Ali Abdi in collaboration with colleagues including Dr Rhys Jones in the School of Biosciences. At the Hamburg meeting, others cited 'defunding by legislators' as a cause of growing inequality and an increasing social divide, and while this is clearly a contested area in the UK, I can say that by comparison with some of our international colleagues, here in Wales we are very well placed indeed, especially as we look to the future. We heard from the representatives of several countries where populist governments have come to power that universities are represented as 'the bad guys', and that we seem powerless to communicate effectively in the age of social media, undermining our ability to mount a public defence of higher education.
A view was also expressed that universities should not provide a platform for campaigns, and while I have considerable sympathy with this view in many respects, we also cannot escape our social responsibilities. Some issues are just too important and the effects too great to ignore. Here I am speaking not of Brexit (though that could be adduced as an example) but of the environmental crisis we are now suffering. The climate emergency is an extremely important part of that, but plastic pollution has been given equal status by some, and both of those anthropogenic phenomena have a very significant impact on biodiversity. Earlier in the month we held our annual awards ceremony for the Green Impact programme, organised by the National Union of Students (NUS), which promotes sustainability initiatives in universities. This year 37 teams of staff and students from different areas of the University took part, winning an array of awards in recognition of their voluntary efforts to make meaningful change on sustainability in their area. Our students played a significant role, 35 of them learning to carry out environmental audits as Green Impact auditors and receiving accredited training from the Institute of Environmental Management and Assessment and a recommendation letter from the NUS. On that occasion I referred to the climate emergency movement saying that it seems likely we will want to join once we have been able to complete an assessment of what that would actually involve and can make a recommendation to Council that could not be seen as greenwashing. This is a serious question: it will not have escaped some readers' notice that international meetings such as those mentioned above (a tiny fraction of our international activity) involve travel, at least partially by air, and we do need to be clearer about what we are prepared to do in this context. Our ambitions for international student recruitment, research visibility and collaboration, and all the other myriad activities with an international dimension need to be seen in the context of efforts to control the amount of travel we undertake in order to fulfil our ambition to act in an environmentally responsible manner. Doubtless there are a range of measures we could consider, and raising this issue up the agenda will be a key part of considering how we meet the demands of the climate emergency.
Having said that, we are certainly making a major contribution to this debate in terms of our research and teaching. Our £5m, ESRC-funded Centre for Climate Change and Social Transformations (CAST) project, led by Professor Lorraine Whitmarsh and established only last month, is a collaboration between Cardiff and the universities of Manchester, York, East Anglia and Utrecht, and the charity Climate Outreach. It focuses on the social and behavioural changes that will be required in the areas of food and diet, travel, the consumption of goods and temperature control in buildings. CAST is a huge feather in our cap and all credit to Professor Whitmarsh and her team for winning this opportunity to investigate the critical human factors without which it will be difficult or impossible to effect meaningful improvement in the prospects that humanity faces. They certainly have their work cut out, but I hope that we as an institution will be able to gain useful insights into the kinds of changes we need to bring about at our level. Another great project in this area is led by Dr Liz Bagshawe, of the School of Earth and Ocean Sciences, with the aim of measuring the rate of flow of glaciers as a proxy of the rate at which they are melting, which will allow conclusions about climate change to be drawn. The magnificently named 'cryoeggs' at the centre of their work are specially designed devices that will be sent down boreholes to the bottom of the glacier and wirelessly transmit readings over time that can be tracked in order to build the necessary data on the pressure, electrical conductivity and temperature of the surrounding water. Their ingenious approach, using cheap and readily available existing technologies, is a microcosm for the way in which the approach to climate change overall does need to combine a huge range of disciplines and innovative methods. That applies to our educational initiatives in this area too. Schools in all three Colleges, including Geography and Planning, Earth and Ocean Sciences and Psychology offer programmes at undergraduate, postgraduate and PhD level that will help create the future expertise we need to address this most complex and pressing of problems. There are many other initiatives across the University, and an audit of our existing contribution to the collective effort required to counteract climate change is only one part of the work we must do to assemble a coherent response to the climate emergency, but it is an important one.
Finally, congratulations are due to Professor Lynne Boddy, from the School of Biosciences, who has been awarded an MBE for services to Mycology and to Public Engagement in Science. If you are interested in finding out more about Professor Boddy's work, I can highly recommend her appearance on the BBC Radio 4 programme The Life Scientific, which I found so fascinating when I discovered it a year or two ago that I listened to it twice. We congratulate Professor Antony Bayer, from the School of Medicine, who was awarded an MBE for services to Healthcare, and, remarkably, our 19-year-old mechanical engineering student Lauren Shea, who was awarded the British Empire Medal for services to promoting science, technology, engineering and mathematics (STEM) to young people. All have served Cardiff University with distinction and we can be very proud of them.
With best wishes
Colin Riordan
Vice-Chancellor
Read about our strategic direction and focus on research and innovation, education, international and engagement.