UEB, 6 February 2017
6 February 2017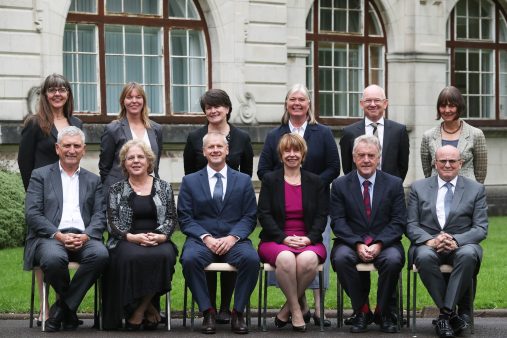 The announcement that Sir Mark Walport had been appointed as the Chief Executive of the UKRI, with the Government's Chief Scientific Adviser role now vacant, was noted.
The comment that staff were slipping behind uploading their publications onto ORCA and should be reminded that failure to do this could affect their participation in REF. It was agreed that Professor Thomas would share with the College PVCs the details of where the issues lie for action to be taken and an update would be received at UEB at the end of the month.
It was noted that the Welsh Government's apprenticeship policy would be published on 7 February.
It was noted that the first roadshow during Speak Week had been held earlier that day and further events were planned for the week.
It was noted that the Welsh Government had formally accepted the recommendations of the Women in STEM report, of which Professor Holford was one of the co-authors.
Professor Treasure and Mr Davies commented on the positive meeting they had recently had with HEFCW to discuss the Strategic Change Fund.
UEB received the third monthly update on action being taken within the three Colleges in response to the 2016 NSS results. College PVCs noted the attention being given to the matter by Schools, with greater awareness of the University priority being given to NSS and an understanding of the local difficulties.  It was further noted that the formal NSS campaign had opened as part of Speak Week.
UEB received the draft strategy's KPIs again and discussed their appropriateness. It was agreed that the sub-strategies and their KPIs should align with the top level strategy and across the sub-strategies.  The revised sub-strategies and KPIs would be reviewed again in a month's time.
UEB received and approved the University's draft response to the Welsh Government's consultation on reviewing the activities of the Coleg Cymraeg Cenedlaethol.
UEB received and noted the Governance Framework.
UEB received and endorsed the proposals for the Guide for University Governors, developed by the Environmental Association of Universities and Colleges, to be actively communicated to Council and all senior managers across the Colleges and Professional Services.
UEB received a paper on student complaints 2015/16 and letter from the office of the independent adjudicator 2015. This paper will now go on to Senate.
UEB received the following regular reports:
PVC Student Experience and Academic Standards monthly report
PVC Arts, Humanities and Social Sciences monthly report
Estates monthly report
Read about our strategic direction and focus on research and innovation, education, international and engagement.